Cómo modificar una declaración informativa mediante formulario web (añadir, modificar y eliminar registros)
Once you have filed an informative tax return via the web form, you can access the "consolidated" return again and make any changes you consider necessary:
Alta de nuevos registros

Baja de registros

Modificación de registros
Tras seleccionar la forma de acceso al formulario e identificar al declarante con su NIF, se reconoce la última sesión guardada, la sesión de la declaración presentada si ya existe, y la posibilidad de iniciar una nueva declaración.Check the option "Upload the tax return filed on..."and you will retrieve the data from this tax return in the form.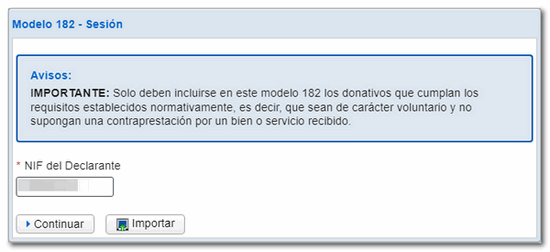 In the list of declarants you will be able to check the information regarding the filing date of each registration, whether it is correct or not, and act on these consolidated registrations.
To modify a tax return, double-click on it and make the necessary changes.
In order to register a new tax return, use the "New registration" button and fill in the new registration data.When you return to the list of taxpayers, you will be able to verify the existence of the new records.
To delete a record, simply select it and use the "Delete selected record" option on the button panel.If you want to delete more than one taxpayer, you can use the "Delete multiple records" button to select the records you want to delete.
Again, on the taxpayer screen, review the records.Before submitting the tax return, you can validate it and save the data, in case you wish to keep the session on the server, in case you choose not to submit the data yet.Click "Sign and Send" to begin the filing.
If the filing is successful, you will get the response page with the successful filing message and the PDF confirmation.Please note that the filing will be made with the correct records even if erroneous records are detected.If you access the saved session or tax return again, the taxpayer panel will retain all records, both correct and erroneous.
Therefore, to modify a tax return filed via the web form, you will simply have to retrieve the consolidated tax return and add, modify or delete the existing taxpayers, without the need to explicitly indicate that the return supplements or replaces the previous ones. Por este motivo, en los formularios desaparecen las casillas de declaración complementaria y sustitutiva.
In addition, you should bear in mind that the submission routes are mutually exclusive;i.e. if the first return was filed using the web form, the rest of the returns will follow the same procedure, unless you first cancel the return from the "Consultation and cancellation of returns" service.