How to consult, confirm and relinquish power of attorney received
Consult powers of attorney received
The authorised person can consult the authorisations granted to them by accessing with a certificate, electronic ID or Cl@ve PIN.
Once you have selected the type of access, you will obtain the window for consultation and management of proxies received, where the NIF and Name or company name of the proxy will be indicated.
You can filter your search by "Applicant", "Authorisation status", "Procedure" and "Effective date".Click on "Search";the top 10 will be displayed and, if there are more results, click on "More" and "Forward" to display the rest of the proxies.Depending on the current status, you will see the following results:'Not authorised', 'Not confirmed' or 'Confirmed'.
Confirmation of powers of attorney received
At present, it is only necessary for the authorised person to confirm the power of attorney granted to him/her in the case of a procedure relating to notifications.
To confirm a proxy, click on the reference number of the proxy that is in "Unauthorised" or "Unconfirmed" status.
In the next window you can check all the details of the file, including the status of the proxy and the current status.Click on the "Confirm received power of attorney" link at the top to continue the process.
Click "Sign and Submit" to continue.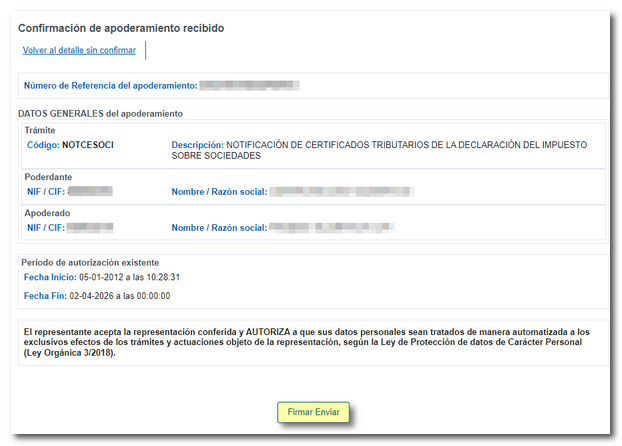 Then tick the "I agree" box and click "Sign and Send" to complete the process.
Relinquish the powers of attorney received
The representative can relinquish a power of attorney at any time, provided that s/he can prove to the Tax Agency that this has been duly communicated to the represented party.The representative will not be removed from the Register until this happens.Therefore, in order to renounce the power of attorney, it will be necessary to attach a file in PDF format with a scanned copy of the burofax sent by the attorney-in-fact to the principal informing him/her of the renunciation of the power of attorney registered in the Register.
To resign click on the proxy reference number.
In the next window click on "Waive received power of attorney", if it is confirmed, or "Deny received power of attorney", if it is in unconfirmed status.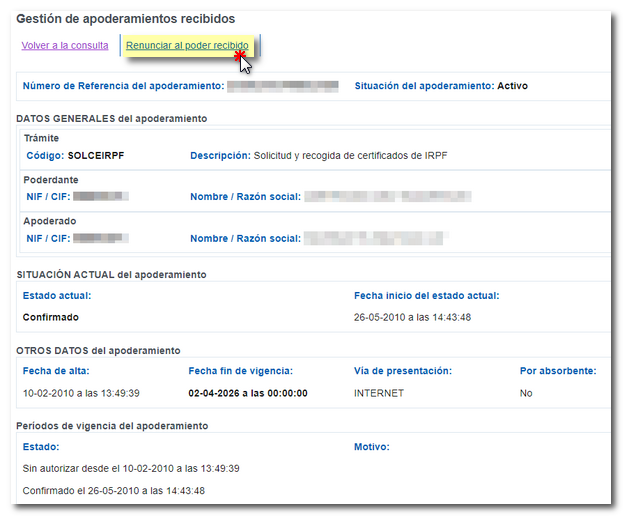 Then click on "Attach document" to select the file of the bureaufax.If you have questions about the types of files you can attach, click on "Help".Accepted file types'.
Once you have attached the document, click on "Sign and Send".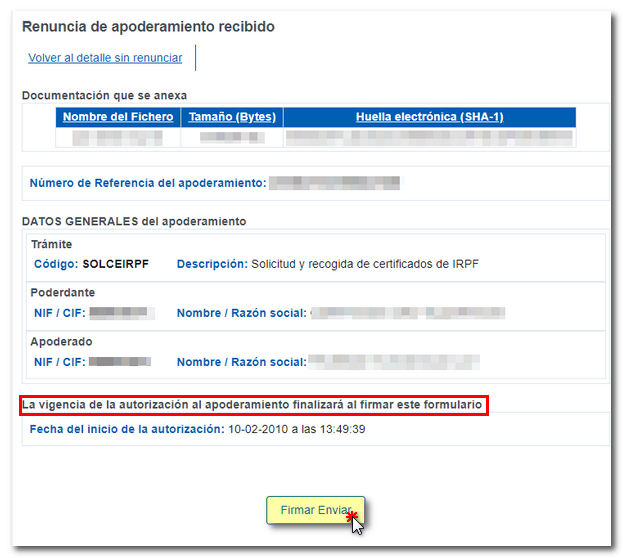 Tick the "I agree" box and click "Sign and Send" to complete the procedure.