Pago de liquidaciones y deudas mediante transferencia bancaria
The payment of settlements and debts through the AEAT can be made by bank transfer, provided that an IBAN corresponding to a non-collaborating entity is used.
The transfer is a non-face-to-face payment option for those taxpayers who do not have an account of their own in any of the collaborating entities of the AEAT and also accepts financial entities in foreign countries.
Note: El pago mediante transferencia no está habilitado para cuentas de entidades colaboradoras con AEAT, para las que sí están disponibles los servicios de pago con cargo en cuenta y pago con tarjeta.
A través de AEAT el contribuyente establece un compromiso de pago y obtiene los datos necesarios para realizar posteriormente la transferencia desde su entidad financiera dentro del plazo establecido.
After logging in, enter the first eight characters of the IBAN (or the identification code) of the account from which you wish to make the transfer.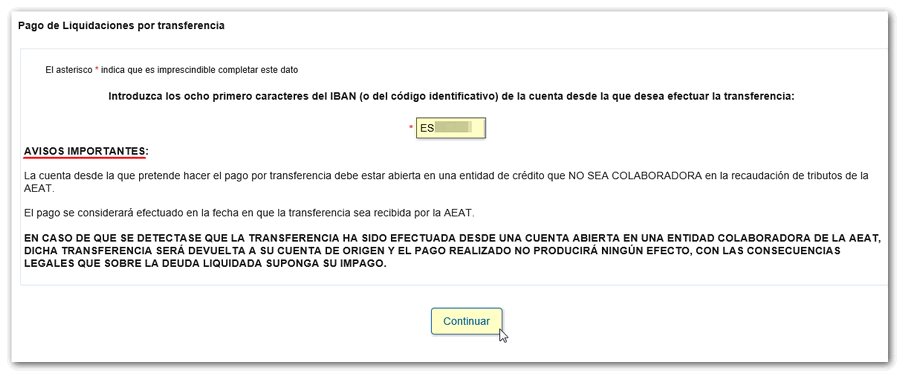 Select the appropriate form, the voucher number of the letter of payment, the taxpayer's identification details and the amount.Then click "Accept data and Continue".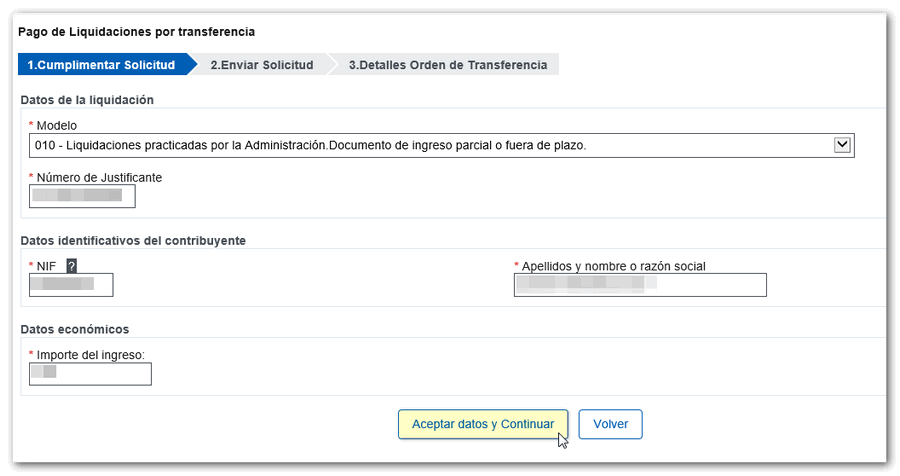 You will obtain the data with which the transfer must be ordered from the bank: IBAN, BIC/SWIFT, importe, concepto/detalle y fecha límite de recepción.
Special attention should be paid to the warnings to ensure that the transfer is carried out correctly.
El pago se considerará realizado en la fecha en que la transferencia sea recibida por AEAT y siempre que dicha fecha esté dentro del límite de recepción indicado.