Safari 11 with Java settings
Important note: Safari (from version 12), Google Chrome and Mozilla Firefox (version 52 and later) have limited their compatibility with the technology required for Java Applets (NPAPI).Therefore, if you want to perform a procedure that requires Java, the browser you need to use on Mac is Mozilla Firefox before version 52.Also, please note that installing Java 8 on Mac requires an OS X version 10.7.3 or higher.
You can expand this information by visiting the Java website.
However, if you are using Safari version 11 to access procedures that still require Java and the corresponding plugin is not running, the following configuration is required in Safari:
Access the browser preferences panel by going to 'Safari', 'Preferences' and select 'Websites'.In the "Modules" section, on the left, check that the Java module is enabled and select it to view the different websites you have visited and that use Java.
Next, check that both the Inland Revenue sites and "Local Documents" are enabled and not running in secure mode.To do this, click the mouse on the site drop-down, simultaneously pressing the "Alt" key (Windows keyboard) or "Option" (Mac keyboard) to display the options.You must select "Activated" and uncheck "Run in Safe Mode"
It is very important to hold down the keys "Option" (Mac keyboard) or "Alt" (Windows keyboard) while clicking on the drop-down, so that the "Run in safe mode" option appears.
Once this option is unchecked, you will be prompted to click "Trust" to confirm the deactivation of safe mode.
An exclamation mark icon usually appears beside the dropdown if secure mode has already been disabled.This set up must be made for the Tax Agency websites as well as for the 'Local documents' websites.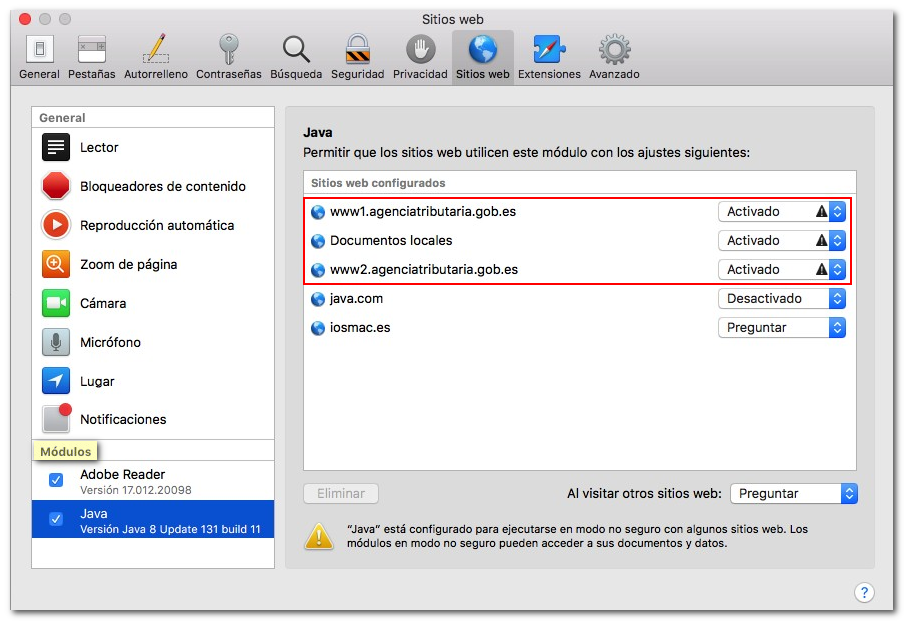 Once you have checked if this was done properly, refresh the window to allow the applet to run properly and gain access.