Deferred validation" status of a submitted VAT refund claim form 360
If the refund request sent has more than 50 operations, it will be given the status "Deferred validation".To access the procedure, you need to log in with the electronic certificate.
IMPORTANT:
To access the deferred validation, the Internet Explorer browser must be used as it is a Java-based process.
If you have more than one presentation, select the file you want to check and press "Send".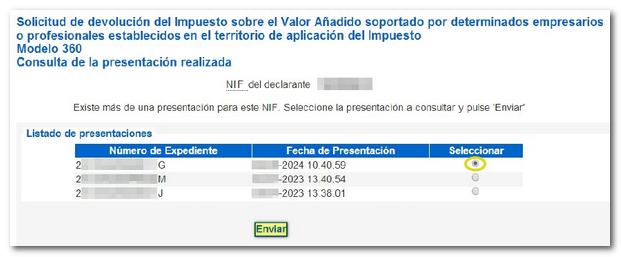 If you have still not made the validation and the dossier is still not being processed, the page will show the warning "Deferred validation".In this case, the filer will then receive an email confirming the filing, or otherwise.Returns are generally validated on the same day.
By performing the verification, or the presentation, these answers can be obtained:
If no errors are detected in the declaration, you will get the message "Correct answer" and the data corresponding to the presentation, including the secure verification code, as proof of the presentation together with the message "Your presentation has been successful".
If errors are detected in the return, you will get the warning "Invalid application" and the page will show the list of specific errors.In addition, an e-mail is sent to the presenter informing him/her of this circumstance and indicating that he/she must make the request again.This tax return is recorded as not submitted, so it must be resubmitted with the corrected errors, submitting a new request.
If the tax return is correct but you need to make changes, you can file a modification return or file a cancellation.