Application for reimbursement of IVMDH (céntimo sanitario) - Technical support
Skip information index
How to consult a submitted IVMDH refund request and annex invoices
If you need to consult a refund application for IVMDH already submitted or attach invoices to an application, you have the option "Consult refund applications and attach invoices".To access the procedure it is necessary to identify yourself with a certificate, DNIe or Cl@ve PIN in the case of an individual.
Set the search parameters and press the "Search" button.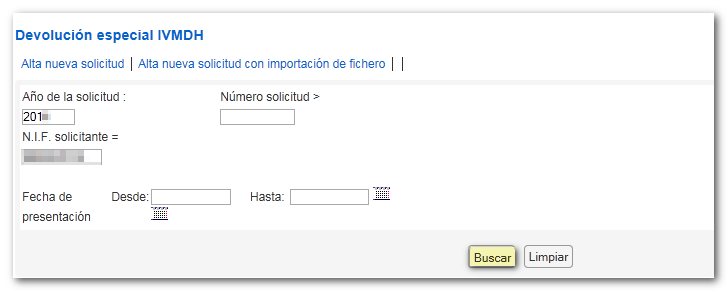 You will obtain a list of refund applications submitted electronically.You can also register a new application from this section.
Click on the application number in the "Application number" field and you will access the detailed information and the list of supplies that are the subject of the refund application.
Attach Invoices
To attach invoices to a submission already made from the link "Query refund requests and attach invoices" click on "Attach INVOICES" at the top.
Fill in the data (those marked with an asterisk must be filled in).In the "Reference" box, enter the number 1 if it is the first file attached, 2 if it is the second, etc. Click on "Select file".
Click on the "Browse" button and select the file with the scanned invoices.Then click on "Save File".
Finally, click on "Sign and send".
You will get a receipt with a registration number.The file incorporated can be consulted in the application itself, within the block "Attached documentation".You can repeat the "Attach INVOICES" process to attach a new file.