Renta 2019
Skip information index
Presentación mediante fichero de Renta 2019
The 2019 income tax return can be filed using a file that has been previously generated from an external help programme and that complies with the record layout published for form 100 for that year. El acceso está disponible en la Sede Electrónica, en la página de trámites para el modelo 100.
El acceso requiere identificación con certificado electrónico, DNIe o Cl@ve PIN o con la referencia obtenida mediante el servicio RENØ de la campaña actual.Choose the form you are going to identify with.

En la siguiente página pulsa el botón "Leer declaración" y localiza el fichero con los datos de la declaración.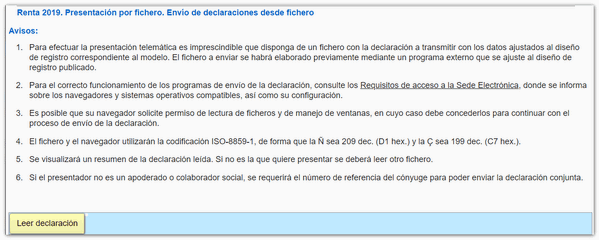 Al leer el fichero, se cargará un resumen de la declaración con los datos de identificación, datos económicos y el resultado de la declaración. Si el resultado es un ingreso deberás incluir el NRC (justificante del pago), u obtenerlo en este momento pulsando el botón "Realizar pago. Obtener NRC". También puedes seleccionar otras formas de pago.
In addition, the notice indicates the language in which the declaration has been drawn up. Si deseas que el justificante o la declaración se obtenga en otra lengua deberás elaborar la declaración para dicha lengua.
En la parte inferior se encuentran las opciones disponibles.By clicking on the "View File" button, you can view the uploaded file in code. Para volver a la declaración haz clic en el aspa o pulsa "Cancelar".

Revisa los datos y, si son correctos, haz clic en "Firmar y Enviar" para proceder a la presentación de la declaración.
Finally, if everything is correct, you will receive a reply form with the message "Your submission has been successful" and a Secure Verification Code so that the authenticity of the declaration can be checked at the E-Office in the section "Document comparison using secure verification code", as well as the PDF which contains a first page with the information on the submission (registration entry number, Secure Verification Code, receipt number, date and time of submission and details of the submitter) and, on the following pages, the complete copy of the declaration.
En los casos en los que exista reconocimiento de deuda, en la hoja respuesta de presentación realizada con éxito, se mostrará un enlace para realizar la presentación del aplazamiento o de la solicitud de compensación. En este caso, pulsa "Tramitar deuda".