Application for a tax certificate of tax residence
The tax residence certificate application is available at the E-Office from the section "All procedures," Certificates, "Census." To identify yourself with Cl@ve, enter the DNI/NIE plus the contrast data requested and click the "Continue" button or click on the link "Access with Cl@ve Móvil using QR code" to scan the QR code with the Cl@ve app, or access it with an electronic certificate or DNI.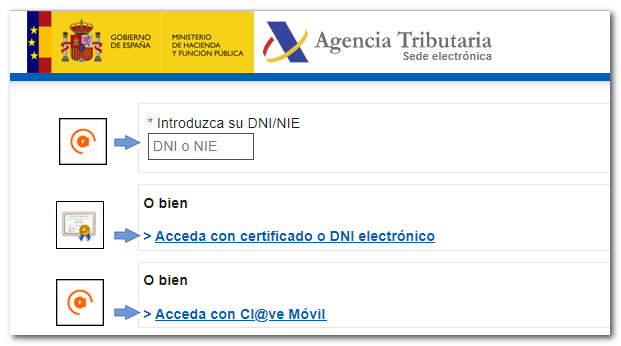 Enter the details requested in the form. If acting in the name of third parties, mark the corresponding box and enter the details requested in the form. Click on "Validate application"; Then check that the details are correct and click on "Sign and Send."
Finally, tick the "Accept" box and click "Sign and Send."
Whenever possible, the certificate will be obtained immediately, although it will always be available if you access it with the same electronic certificate that you requested, through the option "Consult certificates issued," within the procedures relating to "Certificates." In addition, with the CSV associated with this presentation, the document can be retrieved from the "Document check using the secure verification code (CSV)."
The certification may also be requested at the Tax Agency's Administration or Delegation corresponding to the tax address by filing Form 01.
If the taxpayer requests the certificate from the E-Office but does not meet the requirements to issue it at the time, they can complete the application, a certificate refusal document is generated and an alternative is offered to continue the process without going to the Administration. To do so, you will have to access the management "File documents and/or claims" for issuing tax certificates of tax residence, to provide the supporting documentation of the tax residence in Spain and thus reopen the file.
You can access the status of the application by going to "My Files."
It should be noted that, in relation to the format of the certification, the space dedicated to the barcode, communication number and address for the purposes of notifications located at the top right of the document, this may vary depending on the form of delivery of the certificate, and this data may not be shown in certain cases.
However, the authenticity of the document obtained can be verified at any time using the Secure Verification Code (CSV) that appears together with the electronic signature of the same, through the section "Verification of documents using a secure verification code" available at the Tax Agency's headquarters.
The tax residence certificate can also be requested at the Administration or Delegation, requesting an appointment by phone or telephone; In the latter case, you will have to make an appointment and the Tax Agency will contact you by calling the telephone number you indicate to make the request.