Form 583-Technical assistance
Skip information index
Electronic filing of form 583
Form 583 will be filed with a mandatory online procedure. The filing party of the tax return must have a valid electronic certificate (from the declarant or an authorised entity for filing tax returns on behalf of third parties).
First, select the type of self-assessment and the breakdown of the available options. Then click on "Continue." If you have any questions regarding the completion of the tax return, you have the help link "Official State Gazette of 30 April 2013" that appears in the "Notifications" box in the header. If you select a file import breakdown in the "Notifications" section, you will find a link to the file's record design.
You can also obtain help in tax matters and complete the form by contacting the ADI Do you need help desk?, which opens when you enter the form, in the lower right corner.
Then fill in the details requested in the tax return. Remember that the amounts will be filled in euros and with two decimal places separated by a comma.
Once all the details have been entered, click on "Send filing."
Then click on "Sign and Send." In a new window, the presenter's details and a table will be displayed with the coded information sent. Mark the box "OK" and click "Sign and Send" to complete the presentation.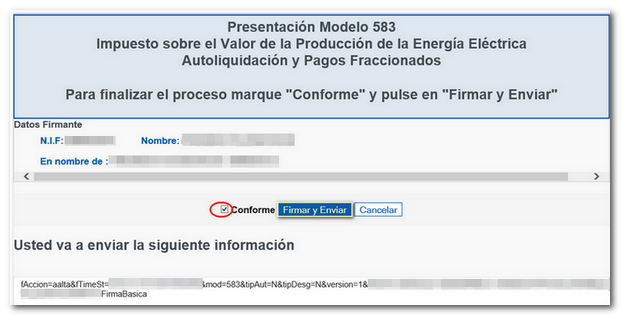 If the tax return is accepted, the Tax Agency will return a summary of the validated application on the screen with a secure 2022583XXXXXXXXX verification code, whose numbering begins with the number of the fiscal year plus the number of the form, 16 (e.g. ). 583 This number appears on the response sheet of an electronic submission made correctly together with the date of the presentation and the Secure Verification Code. If you have marked "Self-settlement Type" direct debit payment, a NRC will appear on the reply sheet that does not act as such, i.e. there is no automatic charge, but it simulates a supporting number.