Form 655
Skip information index
Paper filing of form 655 for Non-residents
When you open the preliminary tax return, you will be presented with a screen with two options:
"Alta de predeclaración", para generar una nueva predeclaración.
"Consultar", para visualizar el detalle de una Predeclaración finalizada. Será necesario indicar el NIF del presentador, y el número de la predeclaración obtenida.
Pulsa "Alta de Predeclaración" para iniciar la predeclaración.

1 Datos de la liquidación
Fill in the settlement details. Los campos marcados con asterisco son de cumplimentación obligatoria.
Once you have entered all the details correctly, click on "Validate/Simulate".
If the first step is not correct, the errors detected will be reported at the top with the button "Go to error". Si no existen errores, se podrá acceder al Paso 2. Visualización de la Autoliquidación.
2 Visualización del modelo cumplimentado
The programme will display a warning indicating that the details entered up to this point will be locked, preventing any subsequent modification.Click "Yes" on the prompt to continue.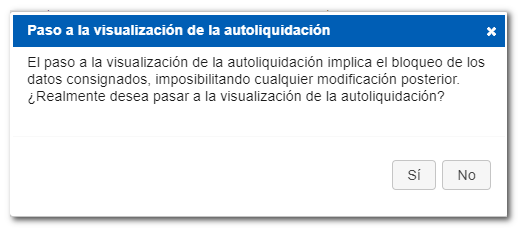 Se obtendrá un Número de Predeclaración que servirá para poder visualizar el documento en cualquier momento desde la ventana inicial del modelo 655 en el apartado "Consultar". En la misma ventana se incluyen una serie de indicaciones para generar correctamente el documento en PDF, así como la opción "Descargar el modelo cumplimentado para imprimir".
You will obtain the "Filing Instructions" document which includes the full tax return.