Form 318 - Technical assistance
The online filing of form 318 is done by means of a form that is completed online and sent directly.
To access you can identify yourself with an electronic certificate or Cl@ve PIN, if the declarant is an individual.In addition to the holder of the tax return themselves, a third party acting on their behalf, either a corporate partner or a proxy, may also submit the tax return.
After you identify yourself, you will be taken to the form.Fill in the identification data and provide the rest of the necessary information.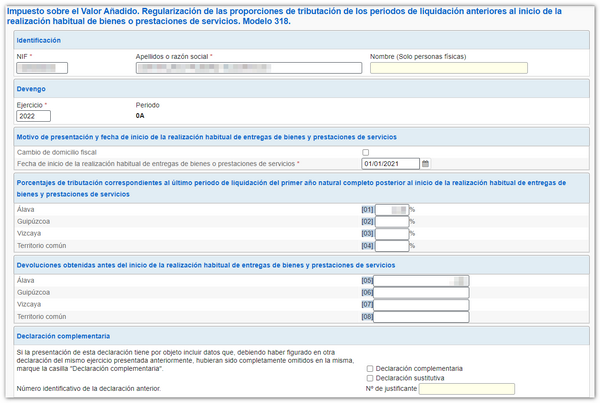 In the event that you file the return in order to include data that was not included in a previous return corresponding to the same tax year or that had been declared incorrectly, tick the "Supplementary return" box.
If you wish to cancel and replace the declaration previously submitted because it contains incorrect data, tick the box "Substitute declaration".In either case, you must fill in the 13-digit receipt number corresponding to the previous tax return.
From the lower button you can access the functions for validating the tax return, saving and loading data, exporting and importing tax returns and filing the tax return.

Before submitting the tax return, check for warnings or errors using the "Validate tax return" button.A tab with the errors and warnings detected will appear at the top of the button panel.Click "Go to warning" or "Go to error" to access the section you need to review or fix.
Remember that notices are informative and do not prevent submission.Instead, errors must be fixed to file the return.
You can save the details entered at any time, even if they contain errors or the tax return has not been completed, by clicking the "Save" button.A .ses file will be downloaded and you can save it locally, either to your computer or an external device.To retrieve the data at a later date, access the tax return and click on the "Load" button to retrieve the .ses file you saved previously.

If there are no errors, it is possible to "Export" a file with the tax return in the valid BOE format (extension .318) for filing.
With the "Import" button, you will be able to incorporate a declaration file in BOE format that has been previously exported from the same form or generated from an external programme, following the specifications of the register design published in "Register designs".
Once the tax return is complete and checked for errors, press "Sign and Send" to complete the filing.

Check "Agree" and "Sign and Send".
The tax return will be filed and you can obtain proof of filing with the CSV assigned and the full copy of the tax return.