What to do if you have any doubts when filling in your Renta WEB return
The first time you access Renta WEB to prepare your tax return, the "Identification details" screen will be displayed for you to verify and complete, if necessary.The information concerning the marital status and the TINs of the spouses may not be changed at a later date.If you need to modify that information, you will have to register a new tax return the next time you access the "Renta WEB" service.
After clicking 'OK' in the "Identification details" window, a notice will appear asking you for authorisation to send this general information to your email address and/or mobile phone.To authorise this service, click "Yes".Otherwise, click "No" and go to the next window.
In the event that, for the transfer of tax data, additional information of any kind is required, a warning will be displayed indicating this and the transferable data screen with additional information will be displayed.
If there are tax data that could not be entered due to lack of information or for other reasons, a warning will be displayed specifying the sections in which the data that have not been transferred must be entered.
If you do not have to enter additional information to transfer other tax data not initially included in the return, you will have direct access to the "Summary of returns", where you can check the result of your returns, according to the initial data that has been entered.
Verify the result of the return for each modality calculated, and you agree with the result, you will be able to file it from this same window.If, on the other hand, you wish to add more data or make any checks or modifications, you can do so using the button "Declaration sections" or access the different sections from the numerical hyperlinks of each concept in the "Summary of declarations".
In the upper options bar there are two help buttons that can be useful when solving doubts related to completing or filing tax returns.The button "Help" with the presentation help manual and the camera icon links to the videos published Renta web tutorials.
From the button "View tax data" you can check the data included and not included in the return.

To continue working with your statement, you can use the arrow commands to navigate between pages, these will be enabled once you click on "Show options".
You also have the option "Search for box", which can be found on the "magnifying glass" icon, which will help you to locate a specific box or item on the tax return.Search by "Box number" or by "Item", select from the results obtained and click on "Go to page".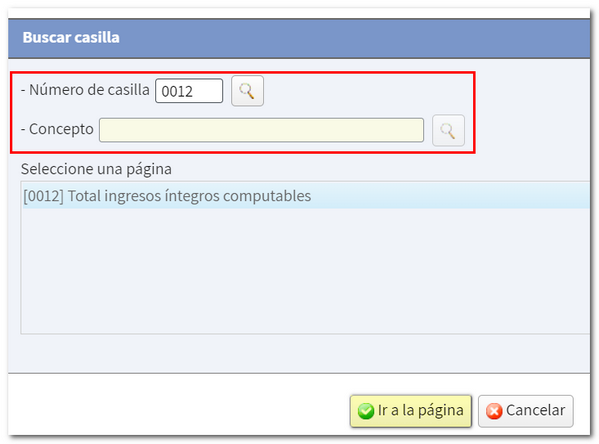 If you have any doubts about where to enter a deduction or a specific income, you can consult the manuals published on the Renta portal.