Consult tax data online
You can access by identifying yourself with Cl@ve PIN, reference number or certificate or electronic DNI.If you have any doubts about how to obtain an electronic certificate, how to register in the Cl@ve system or how to obtain a Renta reference, consult the information available in the related content.
To view your tax details, go to the section "Highlights" and click on the link "Tax details".
In the following window indicate your DNI/NIE to access with Cl@ve PIN or with reference number.Alternatively, you can identify yourself with a certificate or electronic DNI.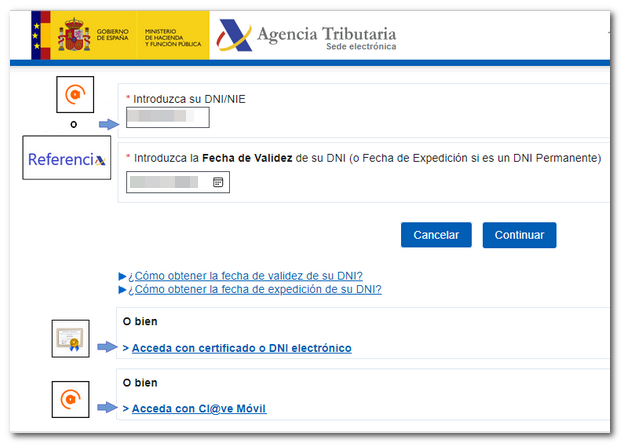 If you access with a certificate / DNI electronic, it will show you the window where you have to indicate whether you are accessing in your own name or as a representative.Tick the corresponding option and click on "Access".

If you choose to identify yourself with Cl@ve PIN or reference number, after indicating DNI/NIE you must also provide the required contrast data according to your document number:validity date for DNI, date of issue for DNI permanent or support number in case of NIE.Then click on "Continue".

If the system detects that the taxpayer is registered in Cl@ve, the options available in each case are offered.In the example in the image below, it has been detected that the taxpayer is registered in Cl@ve.Access with this system is recommended.The option of referral access is also given.
To identify yourself with Cl@ve PIN, obtain a valid PIN that will allow you to carry out this consultation and other procedures on the website, until you disconnect from the Headquarters or close the browser.
If you access with the reference, enter the reference number for the year 2022 or click "I have no reference" to obtain a new one.
After identifying yourself with any of the systems enabled, if this is the first time you access the Renta services for the 2022 tax year, a window will appear for you to ratify or modify, if necessary, the details of your usual address.
Once you have ratified the address, you will be shown the tax details held by the Tax Agency at that moment.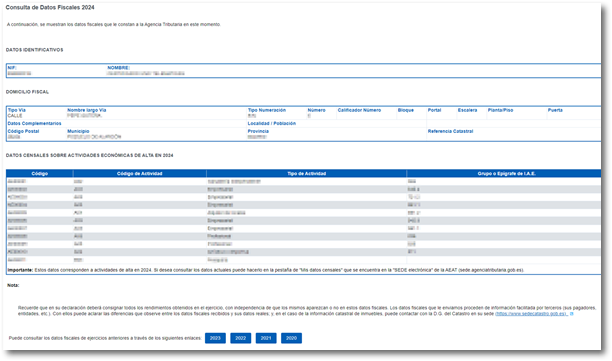 You can also consult your tax data through the "Agencia Tributaria" APP for mobile devices, identifying yourself in the application with your Renta reference number or with Cl@ve PIN.
Consulting prior years' tax details
If you need to consult the tax data for a previous year, you can access from the "Previous years" section and select the corresponding year.