Renta Web Open
"Renta WEB Open" is a version of Renta WEB that works as a simulator; It allows you to simulate your Personal Income Tax declaration but does not require the taxpayer's identification, it does not validate the Tax ID of the declarant and does not need to have tax details.
Note: Renta WEB Open does not allow the tax return to be filed.
In the initial window you can start a "New tax return" or "Load" the details of a previously saved tax return created with the same application (.ses file).
Select the language and enter the full identification details, although no validation will be carried out against the Tax Agency census. If you have started a new tax return, you must include all the personal and financial details to calculate the result.
Once the identification data screen has been accepted, the results summary is accessed directly. To start with the simulation of your tax return, you can access the different sections of the tax return from "Sections tax return" or click on the numerical links along with each item. Remember that the data are entered from the individual modalities and the joint tax return is automatically recalculated with the data entered in the tax returns of each declarant.
Once again in the tax return, you will have a breakdown of links that address the different sections of the tax return and if you click on "Show options," the button panel will be expanded with more actions, including the arrow command to navigate between the tax return pages.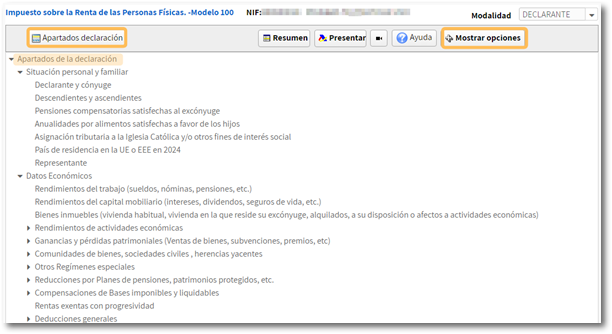 From "Search box" you can find sections of the tax return by box number or items.
The "Validate" button analyzes the completion that has been made and detects possible notifications and errors.
If you want to recover the completed tax return at another time, click on the "Save" button to obtain the .ses file, which you can recover from the initial window by clicking on the "Load" option. You can choose the location where the file will be downloaded, which by default is stored in the folder that you have as pre-determines the browser. The file will have the name dat-100-Tax ID of the declarante-fecha.ses.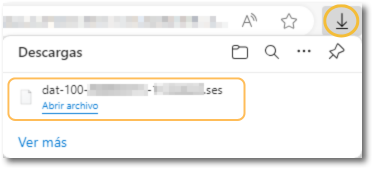 To check the result, you can access the last page, "Payment or return document" or the summary of tax returns.
Renta WEB Open allows you to generate a PDF with the "Preview" of the tax return, although this document is not valid for filing.