Monthly Tax Revenue Reports
The Monthly Tax Revenue Report (IMRT) shows the level and monthly evolution of tax revenues managed by the Tax Agency on behalf of the State. and the Local Authorities (CC. LL). of the Common Fiscal Regime Territory.
The tax revenues of IMRT are presented in cash and liquid terms, that is, as the difference between gross income and refunds made.
Tax Revenue, October 2023
October is the month with the highest collection across the year. In addition to the usual monthly self-assessments, SMEs' third quarter self-assessments and the Corporation Tax second instalment (referred to the period April-September) were submitted. Moreover, after the changes in its calendar, the Tax on Fluorinated Gases was also cashed in this month.
Total Net Tax Revenue summed up in October €45.33 billion, 8.3% above the same month last year. The main driver for this growth kept on coming from gross receipts evolution: 4.7%, alike to the previous five months average. In turn, the sharp decrease in the amount of refunds paid in October has to be added (-19.8%).
Total Tax Net Revenue expanded by 5.2% year-to-date (5.8% the gross receipts, 8.8% the refunds paid). Homogeneous tax revenue inched up by 5.8% up to October, the same rate recorded last month. Aggregate Tax Base from the main items enlarged by 7.9% up to September (11.4% the bases linked to income and 3.1% those related to spending). The difference with tax revenue evolution can be explained by the impact exerted by PIT and VAT rates cut.
About the new info obtained in October it is worth mentioning, on the one hand, that SMEs' quarterly data verify the gradual waning in the growth rates seen in the two preceding quarters and, on the other hand, that CT second instalment advance was not so intense as it was in the first one, due mainly to the worse performance in Groups' profit. Yet, to date both facts did not alter the well-established features that had been shaping tax revenue evolution across the year, which matches at the same time with tax bases performance. They were the high revenue from direct taxes, boosted by hiring, salaries/pensions updating and the effective tax rate rise and the slight increase in the rest of items. This took place against a backdrop of tax rates slashing and the high amount of refunds released.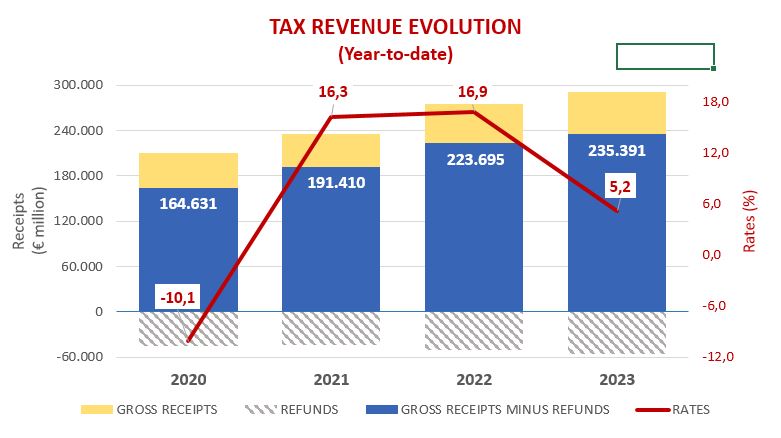 Next release on December 22 (November report)