Form 122
Skip information index
Presentación electrónica del modelo 122
To file form 122 electronically, you must identify yourself with a digital signature (certificate or DNI electronic) or by means of the Cl@ve PIN identification system (only individuals).
Next, you will be taken to the data entry screen.All fields marked with an asterisk (*) are compulsory.
In section 4, you will be able to register new records from the blank sheet icon with the green "+" sign; delete them or access the details of each to modify them, if necessary, from the button panel in each section, with the different functionalities.
In section "5.Settlement", the result of the adjustment to be paid will be self-calculated, based on the data indicated in the previous sections.
Una vez finalizada la cumplimentación pulsa "Validar" para comprobar si existen errores.
If there are errors, they will be listed, with a "Go to error" link that will take you to the wrong box or section so that you can correct it.
From the "Import" button, you will be able to incorporate a file created with another programme, provided that it conforms to the approved register design for form 122, or that you have previously exported from the form itself.You can consult the registration design in the link located in the block on the right-hand margin "Registration designs of models 100 to 199".
Once the form has been validated without errors, click on "Formalise Payment / Refund".
If you choose a type of settlement that involves a deposit, click on the button "Make payment (obtain NRC)", which connects you to the payment gateway of the AEATto make the online payment.Form 122 also includes the option of payment by transfer from a bank account of a NON-COLLABORATING bank, choosing "Select the type of return" and "Acknowledgement of debt and payment by transfer" in the drop-down menu.
From the "Export" option you will be able to generate a file in BOE format, with extension .122, which you will be able to retrieve in the form itself using the "Import" option.Finally, click "Sign and Send" to file.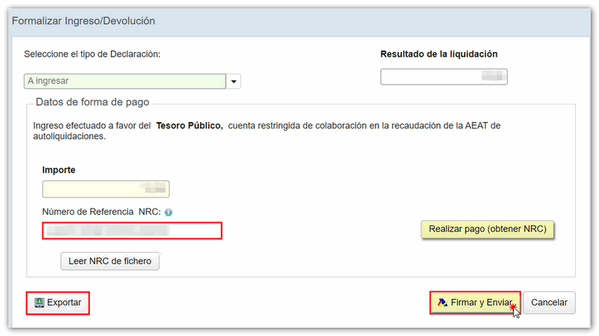 Marca "Conforme" y pulsa "Firmar y Enviar".
Si todo es correcto, obtendrás la hoja de respuesta en la que aparece "Su presentación ha sido realizada con éxito" con un PDF incrustado que contiene una primera hoja con la información de la presentación (número de entrada de registro, Código Seguro de Verificación, número de justificante, día y hora de presentación y datos del presentador) y, en las páginas posteriores, la copia completa de la declaración.
En los casos en los que exista reconocimiento de deuda, en la hoja respuesta de presentación realizada con éxito, se mostrará un enlace para realizar la presentación del aplazamiento o de la solicitud de compensación. Pulsa "Tramitar deuda". A continuación, aparecerá el detalle de la liquidación con los datos del deudor y de la clave de liquidación. Deberás escoger entre una de las opciones disponibles: aplazar, compensar o pagar.
If you do not have electronic identification, you can file the form in person at the Administration, using the pre-declaration form.