Form 122
Skip information index
Online filing of Form 122
To file form 122 electronically, you must identify yourself with a digital signature (certificate or DNI electronic) or by means of the Cl@ve PIN identification system (only individuals).
Next, you will be taken to the data entry screen.All fields marked with an asterisk (*) are compulsory.
In section 4, you will be able to register new records from the blank sheet icon with the green "+" sign; delete them or access the details of each to modify them, if necessary, from the button panel in each section, with the different functionalities.
In section "5.Settlement", the result of the adjustment to be paid will be self-calculated, based on the data indicated in the previous sections.
Once you have finished filling in the form, click on "Validate" to check for errors.
If there are errors, they will be listed, with a "Go to error" link that will take you to the wrong box or section so that you can correct it.
From the "Import" button, you will be able to incorporate a file created with another programme, provided that it conforms to the approved register design for form 122, or that you have previously exported from the form itself.You can consult the registration design in the link located in the block on the right-hand margin "Registration designs of models 100 to 199".
Once the form has been validated without errors, click on "Formalise Payment / Refund".
If you choose a type of settlement that involves a deposit, click on the button "Make payment (obtain NRC)", which connects you to the payment gateway of the AEATto make the online payment.Form 122 also includes the option of payment by transfer from a bank account of a NON-COLLABORATING bank, choosing "Select the type of return" and "Acknowledgement of debt and payment by transfer" in the drop-down menu.
From the "Export" option you will be able to generate a file in BOE format, with extension .122, which you will be able to retrieve in the form itself using the "Import" option.Finally, click "Sign and Send" to file.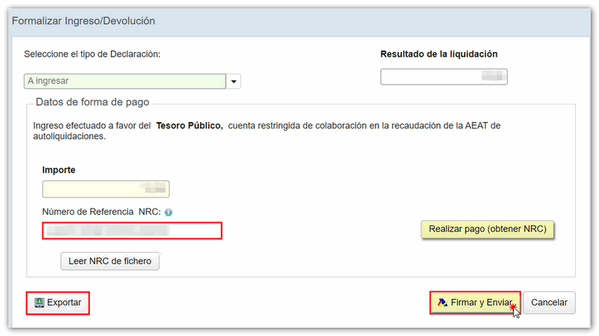 Check "OK" and click "Sign and Send".
If everything is correct, you will get the answer sheet stating "Your submission was successful" with an embedded PDF containing a first sheet with the submission information (registration entry number, Secure Verification Code, receipt number, date and time of submission and submitter's details) and, on the following pages, the full copy of the declaration.
In the cases with acknowledgement of debt, on the reply sheet of successful returns, a link will be displayed to which to submit the deferral or compensation request.Click "Process debt".Subsequently, the settlement details will appear with the debtor details and the settlement code.Choose between one of the options available.defer, clear or pay.
If you do not have electronic identification, you can file the form in person at the Administration, using the pre-declaration form.