Form 130
Skip information index
Presentation of model 130 using data from previous declarations
Model 130 has the functionality that allows you to recover data from a previous declaration that has already been submitted.
You can access by identifying yourself with Cl@ve , certificate or DNIe . If you have questions about how to obtain an electronic certificate or how to register in the Cl@ve system, consult the information available in the related content.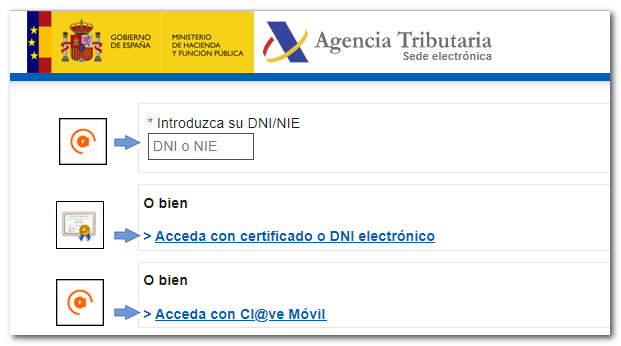 In the next window, indicate your DNI / NIE to access with Cl@ve . Or, you can identify yourself with a certificate or DNIe .
If you choose to identify yourself with Cl@ve after indicating the DNI / NIE you must also inform the information of Contrast required based on your document number: validity date for DNI , issue date for permanent DNI or support number in case of NIE . Then press "Continue". Confirm authentication in Cl@ve in the APP or view or receive the PIN on your mobile device. If you have installed the APP Cl@ve you also have the link "Access with Cl@ve Mobile" to scan the QR code offered in the web to confirm the authentication of Cl@ve .
If the declarant does not have an electronic certificate, it is necessary that the person making the presentation be authorized to present statements on behalf of third parties, either by being registered as a collaborator or by being authorized to carry out this procedure.
In the "Recovery of submitted returns" window, indicate the data of the return you wish to make (Model, Year, Period, NIF , Surname and first name or Company name). Data from a previous declaration may only be transferred if it was submitted electronically by form. If it was submitted in batches or through pre-declaration, the information cannot be obtained.
Press "Search" to display those fiscal year and period declarations that can be used based on the fiscal year and period indicated in the declaration to be made.
Select the declaration you want to recover from the list of available declarations and click "Recover declaration".
The Form 130 form will then open in a new browser window or tab.
The settlement data will appear completed according to the recovered declaration. However, you can modify it and add the corresponding information.