Cómo obtener el borrador o declaración en Renta WEB con referencia
With the reference number you will be able to access the "Draft / tax return processing service (Renta Web)" to generate your tax return with the data available at AEAT and modify it by adding the data you consider appropriate.
Access the Renta 2021 portal, under "Gestiones destacadas", click on "Servicio de tramitación borrador /declaración (RENTA WEB)".
En la siguiente ventana indica el DNI/NIE para comenzar la obtención.
Debes completar también el dato de contraste requerido en función del tipo de documento.En la parte inferior dispones de los enlaces de ayuda correspondientes para localizar en tu documento de identidad el dato requerido:
Fecha de validez

, para DNI.

Fecha de expedición

, para DNI permanente (01-01-9999);
Support number

, if it is a NIE.
Fecha de nacimiento

, si se trata de un NIE que comience por las letras L, M y K.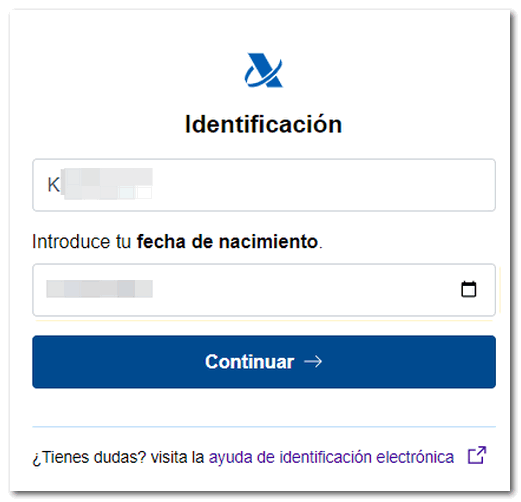 After you have successfully entered the data, press "Continue".
Once you have identified yourself, a guided referral process begins, in which the application will detect the taxpayer's situation and offer the options available to them.
If you are registered in Cl@ve PIN you can access the Renta services via this method.However, there is also the option of obtaining a reference, both with Cl@ve PIN and with the amount in box 505 of the 2020 Tax Return.
If you are not registered in the Cl@ve PIN system, the link to registration will be offered (recommended) and the option to obtain the reference with the amount of box 505 will be shown.
If you wish to obtain the reference with box 505 and the system detects that you were not a Renta 2020 declarant or the amount in box 505 is zero, you must indicate the last 5 digits of your IBAN.
If the system detects that you have filed Renta 2020 and that the amount in box 505 is not zero, it will ask for the amount in box 505.Introduce el importe con el número entero sin separación en los millares y los dos decimales separados por una coma.Haz clic en "Obtener referencia".
Cuando todos los datos identificativos se hayan validado se mostrará la referencia en pantalla.Anótala para identificarte en los servicios de Renta y pulsa "Cerrar".

After closing the obtain window, enter the reference obtained (remember that you can also obtain it using the mobile application Agencia Tributaria).If you do not yet have a valid reference, click "I don't have a reference" to obtain one.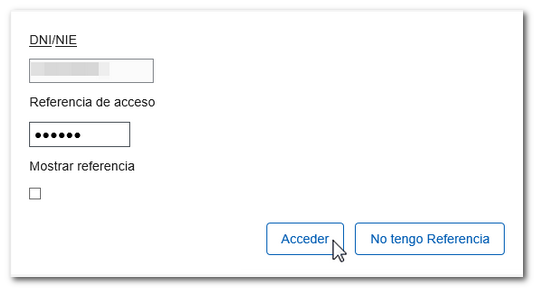 Accederás a los servicios disponibles de tu expediente.To consult the draft, modify it or file the return, select "Draft/Statement (Renta WEB)".
Si ya has accedido a Renta WEB anteriormente, en una ventana emergente se informará de la existencia de una sesión de trabajo previa, que puedes recuperar desde la opción "Continuar sesión".If a declaration has already been filed and you wish to modify it, click on "Modify filed declaration".You can also start a "New declaration", incorporating the tax data.
Podrás escoger la lengua cooficial en la que deseas realizar la declaración.
Identification details
If this is the first time you are accessing, an initial window will appear with the identification details of the declarant and the rest of the declarants of the components of the family unit.Revisa los datos y realiza las modificaciones necesarias antes de continuar.Ten en cuenta que algunos datos como el estado civil o la información sobre hijos menores de edad o incapacitados judicialmente sometidos a patria potestad prorrogada o rehabilitada no podrán ser modificados posteriormente.
Si no deseas introducir los datos fiscales del cónyuge (si has indicado como estado civil, "Casado/a"), debes marcar la casilla para el cálculo de la declaración individual.En caso contrario, no podrás avanzar ya que se solicita la identificación del cónyuge con referencia o Cl@ve PIN.
Declaraciones con cónyuge
For returns with a spouse, if you want to compare the result of the return under the different taxation options, individual or joint, you will need the spouse's reference number or a PIN code authorising access.In this case, click on the button "Reference/ Cl@ve PIN" under the heading "Spouse authorisation" and identify the spouse using one of these systems.
Traslado de datos con información adicional
Tras aceptar la pantalla de datos identificativos, si la aplicación detecta que se deben trasladar a la declaración datos fiscales adicionales, sigue las instrucciones de las siguientes ventanas para incorporar esta información.
Si no necesitas incorporar información adicional para generar la declaración, accederás directamente al resumen de resultados desde donde podrás comprobar el resultado de la declaración para cada modalidad y completar la declaración, si fuera necesario.
Resumen de declaración
In the menu at the bottom you have the buttons "Continue with the return" (to access all its sections), "Personal data", "View transferred data" (tax data) and "Save" (to retrieve the return at a later session).También dispones de vídeos explicativos y, en el icono de la interrogación, el acceso al manual de ayuda para la presentación de la declaración de Renta.
Desde el Resumen de declaraciones, dentro de cada modalidad, puedes obtener una "Vista previa" en PDF, comprobar tus datos fiscales o presentar la declaración.