Errors related to using the DNIe
Skip information index
Error: "Falló el inicio de sesión" en Mozilla Firefox
When logging in via DNIe in Firefox, you may get the following error after entering your PIN.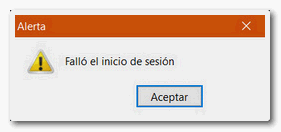 El error puede aparecer por diversos motivos:
La versión del sistema operativo no es compatible con la versión del DNIe empleado.

The latest version of the cryptographic module is not installed and/or the latest version of the library is not linked from "Security devices".

El lector empleado está dentro del listado de lectores problemáticos con DNIe 3.0.

El PIN está bloqueado.
Carry out these checks:
Si es DNIe 3.0, comprueba si la versión del sistema operativo es compatible.

If the system is compatible, check that the latest version of the cryptographic module of DNIe is installed (we recommend checking the version on the website DNIe of the Directorate General of Police, www.dnielectronico.es). En sistemas Windows, desde "Programas y características" se puede comprobar la versión del "Instalable DNIe".

Si no está actualizado desinstálalo e instala la última versión. A continuación reintenta el acceso.

Si el sistema es compatible y el módulo está actualizado, prueba a "Descargar" y volver a "Cargar" la librería manualmente.

Tras descargar el módulo, vuelve a añadirlo manualmente y reintenta el inicio de sesión. Si en alguno de los reintentos en los que no se detecta el DNI electrónico aparece el texto "Unnamed Slot", el nombre del fabricante o el modelo del lector en "Modulos de seguridad y dispositivos" en lugar de "DNI electrónico", prueba a cerrar el navegador, reconectar la tarjeta (incluso cambiar de puerto USB el lector, si es posible) y volver a abrir el navegador.

If the reader used is compatible with the version of the DNIe used and the latest version of the "Installable DNIe" is already installed, the PIN is probably blocked. Para confirmar si está bloqueado, accede con Windows, ya que de este sistema sí devuelve un mensaje concreto cuando el PIN está bloqueado:

Click on "View certificates" and enter the PIN.The certificates should then be displayed.
Intenta de nuevo "Iniciar sesión". Si periste el error debe acudir a un punto de actualización del DNIe.