Form 131
Skip information index
Presentación electrónica mediante formulario del modelo 131
For the electronic filing of form 131, the AEAT provides a form to be filled in online and sent directly from the option "Form 131.Financial year 2021.Filing".
Identifícate con firma digital (certificado o DNI electrónico) o bien mediante el sistema de identificación Cl@ve PIN (sólo personas físicas).
In the "Identification Details" window, the "Load" option allows you to import a tax return stored on the AEAT server and saved previously.Remember that if you wish to import data from files, you must use the option "Form 131.Financial year 2021.Submission (with file)".
Cumplimenta los datos identificativos y pulsa "Aceptar".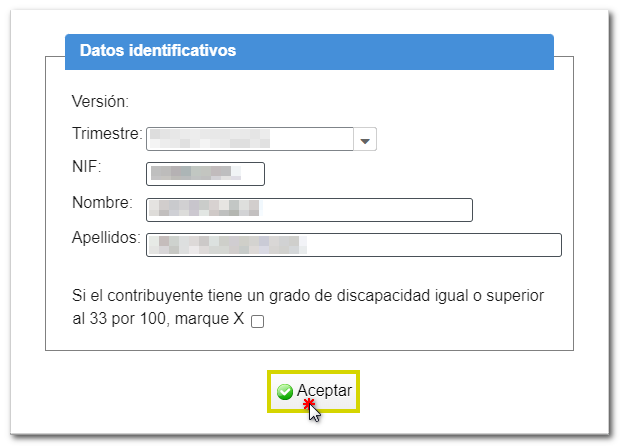 En el formulario, podrás variar los datos identificativos y cargar (nuevamente) una declaración almacenada en el servidor haciendo clic en el botón "Datos identificativos" situado en la parte superior.

Haz clic en el icono situado al lado de "Información adicional" para seleccionar la actividad y cumplimentar los datos requeridos. Para dar de alta una nueva actividad pulsa "Alta Registro". Puedes navegar por los distintos registros con las flechas para avanzar o retroceder o pulsar el icono del aspa para eliminar un registro determinado.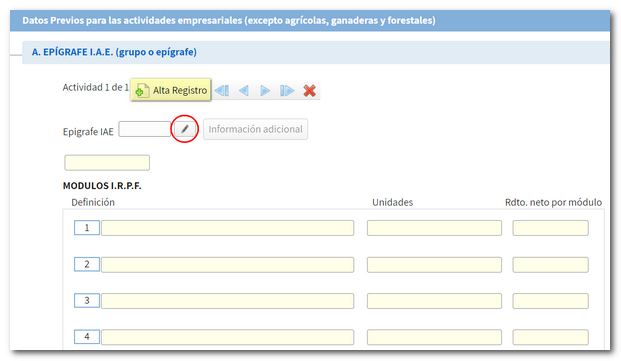 En la parte superior de la pantalla se encuentra la botonera con varias opciones. Con las flechas puedes avanzar o retroceder entre páginas.

Una vez cumplimentados los datos puedes comprobar si existen avisos o errores en la declaración desde el botón "Validar declaración".
Al validar la declaración, se mostrará la relación de errores y avisos detectados, a los que puedes acceder para su corrección desde el botón "Ir al Error" o "Ir al Aviso" junto a la descripción del fallo.

Si no se detecta ningún error en la declaración, en la descripción se informará de que no hay errores.

Desde el botón "Ayuda" puedes consultar las instrucciones de cumplimentación del modelo.

You can also get help with tax matters and filling in the tax form by contacting the virtual counter at "ADI Need help?which opens when you enter the form, in the bottom right-hand corner.
The "Save" option allows you to save the already completed data even if the tax return has not been validated correctly, so you can keep the data and continue filling it in at a later time. La declaración se guardará en el servidor de la AEAT para su posterior carga en el formulario en la ventana inicial "Datos identificativos". Sólo se guarda una sesión por lo que, si existe una declaración guardada previamente se sobreescribirá y quedará reemplazada por la actual.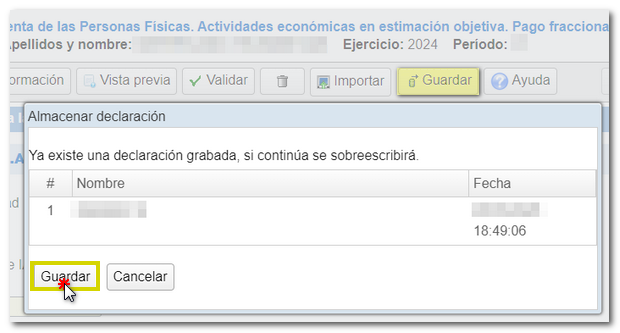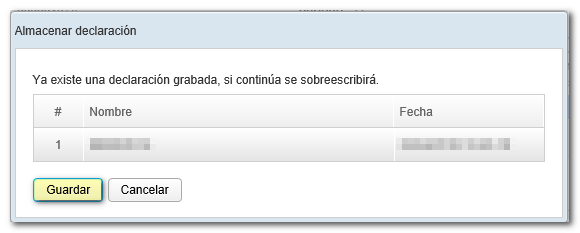 Con el botón "Borrador", podrás obtener un archivo .PDF que, aunque no es válido para la presentación, te puede servir como consulta. El PDF se mostrará con una marca de agua en diagonal indicando que no es válido para la presentación.

En la parte superior del PDF encontrás los botones para volver al formulario, abrir una nueva declaración o descargarlo en tu equipo pulsando "click aquí para descargar el pdf".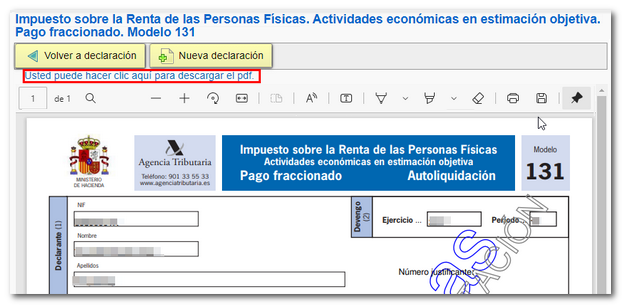 El botón "Mostrar información" permite activar o desactivar la información sobre los avisos y errores de la declaración, así como, los apartados de la declaración.

Continue to the next page to complete the tax return details.
Once validated, you can process the settlement options from the button "Process Deposit/Refund".
Si el resultado es a ingresar y no has domiciliado el importe, deberás obtener primero el NRC y después presentar la autoliquidación.The NRC is the Complete Reference Number, a 22-character code that serves as receipt of payment. Desde el propio formulario, en el botón "Realizar pago (obtener NRC)" puedes conectar con la pasarela de pago para generar automáticamente un NRC con los datos que contiene la declaración. Una vez obtenido el NRC deberás introducirlo en el campo "Número de Referencia NRC". No obstante, puedes optar por otras formas de pago o reconocimiento de la deuda.
Form 131 also includes the option of payment by transfer from a bank account of a bank that is NOT a collaborating bank, by choosing "Acknowledgement of debt and payment by transfer" in the drop-down menu "Select the type of tax return".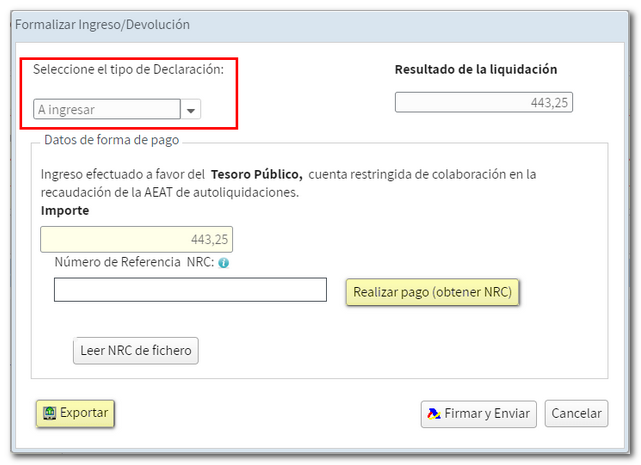 Una vez que hayas validado y guardado la declaración, podrás presentarla desde la opción "Firmar y Enviar".In the new window, check the "OK" box to confirm the filing of the tax return.The text box will show the content of the tax return in code. Puedes continuar con la presentación de la declaración pulsando "Firmar y Enviar".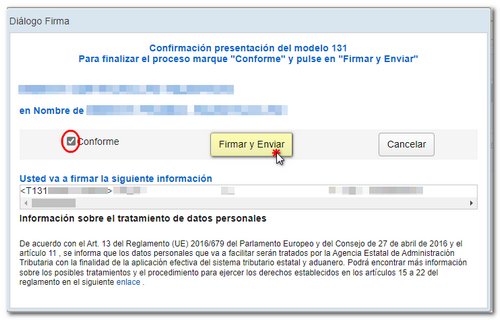 If the process is correct, you will obtain a reply stating "Your tax return has been filed successfully" and a Secure Verification Code so that the authenticity of the tax return can be checked in the e-Office in the section "Check documents using secure verification code", found in "Notifications and Check documents" (in the highlighted blocks), as well as an embedded PDF containing a first page with the information of the filed document (record entry number, Secure Verification Code, receipt number, day and time of filing and details of the taxpayer) and, in the later pages, the full copy of the tax return.
En los casos en los que exista reconocimiento de deuda, en la hoja respuesta de presentación, se mostrará un enlace para realizar la presentación del aplazamiento o de la solicitud de compensación. Pulsa "Tramitar deuda".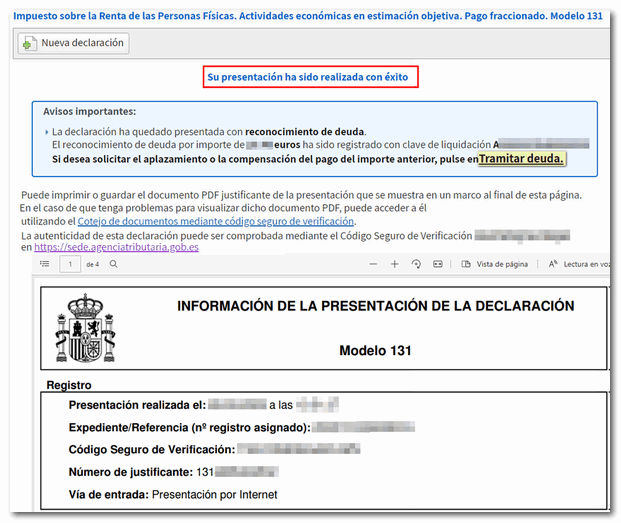 Remember that for questions on tax matters you can contact 901 33 55 33 /91 554 87 70 for Basic Tax Information, via the virtual counter "ADI Do you need help?",or you can consult in person at your Administration or Delegation.