Form 213
Skip information index
Presentación electrónica del modelo 213
The electronic filing of Form 213 requires identification by means of an electronic certificate. If the taxpayer does not have one, a third party acting on their behalf, either a corporate partner or a proxy, may file the form
Una vez en el formulario, procede a cumplimentar la declaración asegurándote de incluir datos en los campos marcados con un asterisco, que son de cumplimentación obligatoria.
Two tabs are located at the top of the form:"Self-assessment/Payment/Send" and "List of properties".
En la pestaña "Relación de inmuebles" se encuentra una botonera desde la que puedes dar de alta, baja y navegar entre los registros.To register a record, click the "New record" icon identified by a white sheet with a green "+" sign.
At the bottom of the screen you will find the form options button.
To check the tax return for errors, click on "Validate tax return".If it contains errors or warnings, the "Errors" tab will be enabled with the description of the error or warning and the "Go to Error" or "Go to Warning" button, as appropriate, that will take you directly to the box to be modified or filled in.
If the tax return does not contain errors, you will receive the message "There are no errors".
From the "Import" button, you can read a file that complies with the logical design format published on the website obtained with the "Export" button of the form or made with an external program.
Once all the data has been entered and the tax return has been validated without errors, click on "Process Payment / Refund".
If the tax return results in a payment due, and if you do not choose direct debit as a payment method, you must obtain a complete reference number (NRC) for proof of payment.The Complete Reference Number (NRC) is a 22-character code used as proof of payment. It incorporates an encryption of the taxpayer's NIF, the amount, the form, the fiscal year and the period.
Dispones de varias vías para efectuar el pago y obtener el NRC:
Contact your bank directly or go to its website if it offers this service.
A través de la pasarela de pagos de la Agencia Tributaria, desde la opción "Pagar, aplazar y consultar deudas" o desde el botón "Realizar pago (Obtener NRC)" dentro del propio formulario.
In this same window you have the option to obtain a file in BOE format that complies with the registry design by clicking on the "Export" button.
Finally, click on the "Sign and Send" button to continue with the filing process.
Form 213 has an integrated option of payment by transfer from an account of a NON-collaborating Bank, if you chose in the drop-down menu "Select the type of Tax Return", "Acknowledgement of debt and payment by transfer".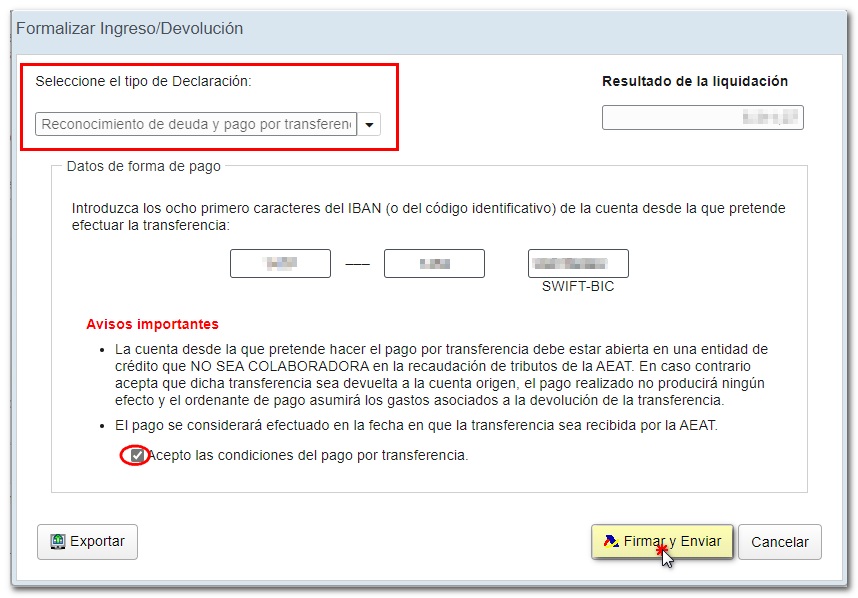 In the new window, check "OK" to confirm the filing of the tax return.The text box will show the content of the tax return in code.Finally, click "Sign and Send".
El resultado de una presentación correcta del modelo 213 será una página de respuesta en HTML con un PDF incrustado correspondiente a la copia electrónica de la declaración que contiene una primera hoja con la información de la presentación (número de entrada de registro, Código Seguro de Verificación, número de justificante, día y hora de presentación y datos del presentador) y, en las páginas posteriores, la copia completa de la declaración.