Online filing of Form 140
The application for the advance payment of deductions for maternity can be submitted electronically by filing form 140.Access to the procedure is available with an electronic certificate, DNIe and Cl@ve PIN.
Please note that this option is only enabled for submitting new applications and that for applications initiated as of 1 March 2020, changes will be made from the specific procedure, "Consultation and management of filed tax returns".
Any variations or consultation of submissions prior to 1 March 2020 shall be made from previous years.
Once in the form, check the information that appears in the "Notices" box and proceed to fill in the form, making sure that you enter the data correctly, the corresponding SEPE scheme, mutualidad or benefit.Also the complete IBAN of the bank account to which you wish the payment to be made.
To go to the next screen, click on "Validate".
Indicate if there is more than one beneficiary of the deduction by ticking the box "SEVERAL TAXPAYERS ELIGIBLE FOR THE APPLICATION OF THE DEDUCTION".In this case a new field is enabled to identify this taxpayer.
Remember that after submitting this declaration, a new application must be submitted for this beneficiary.
If the data is correct, click on "Sign and Send".
Check "Agree" and "Sign and Send".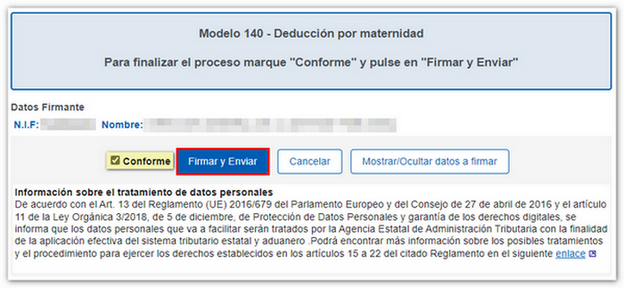 If the submission is successful, a registration confirmation page is provided, which includes the Secure Verification Code (CSV).
If you wish to obtain the receipt at PDF, click on the link "View in PDF format".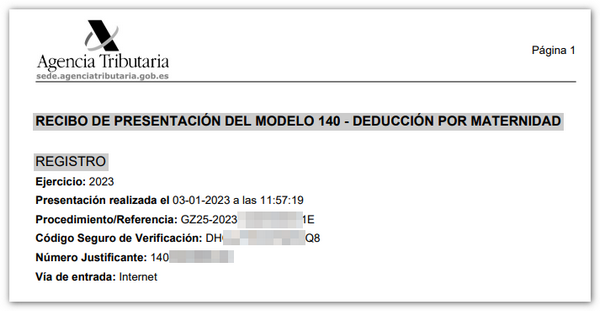 If you need to submit another application, click on the "New Application" link to return to the form.