Modelo 036 y 037
Skip information index
Incident The "Sign and send" button does not appear on the form
Se trata de un problema en la visualización de los formularios de algunos modelos en los que no aparecen los campos "Lugar, fecha y firma" o no muestra las casillas de verificación en la cabecera del modelo, con lo que se impide avanzar y realizar la presentación.
Este problema suele solucionarse modificando el zoom del navegador (ampliando o reduciendo) en función del tipo de monitor y la configuración de pantalla que se tenga establecida. Puede hacerse desde las opciones de vista del navegador o jugando con la rueda del ratón mientras se mantiene pulsada la tecla "Control" del teclado.
Sin embargo, en muchos casos esto no resuelve el problema. En general se debe a que tienen marcada la opción "Ampliar solo texto" en el navegador, que impide que el zoom afecte a todos los elementos.To deactivate it, go to the "View" menu, "Size" in Firefox (if the menu bar does not appear, you can try the F10 key).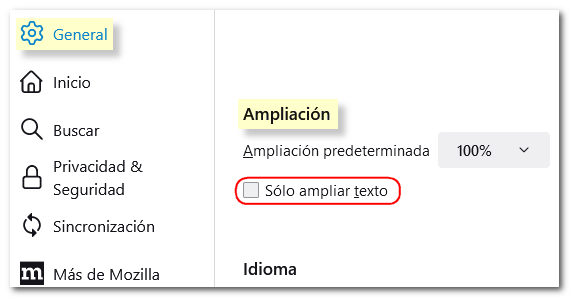 Once the option has been deactivated, it is advisable to change the zoom again until the missing options are displayed.