Form 390 - Technical assistance
Skip information index
Tax Form 390.Simulator (Open)
The "Simulator Form 390 (OPEN)" for 2021 does not require identification by the taxpayer, it does not validate the taxpayer's NIF , but it does allow the taxpayer to simulate form 390 of the annual VAT summary.
En una primera ventana cumplimenta los datos identificativos, como son: NIF, nombre y apellidos o razón social, aunque no se efectuará ninguna validación contra el censo de la Agencia Tributaria. Podrás empezar con una declaración de cero, pulsando "Aceptar" o "Cargar" los datos de una declaración guardada. Para recuperar una declaración previa, tendrás que abrir el fichero .ses que se genera al guardar la declaración.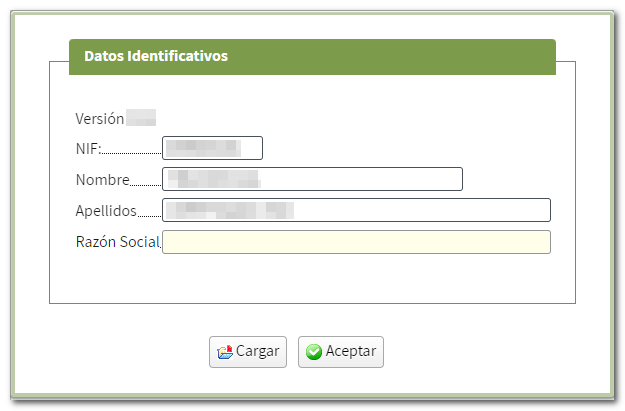 Al pulsar "Aceptar" se mostrará una ventana con un aviso, consulta la información y pulsa "Aceptar" .
Una vez aceptada la pantalla de datos identificativos, se accede directamente a la página 1 "Sujeto pasivo y devengo" para seguir cumplimentando la declaración. Desde el botón "Apartados", podrás dirigirte a las distintas páginas de la declaración para ir introduciendo el resto de datos. También puedes ayudarse del comando de flechas situado en la parte superior del formulario.
En algunas páginas, será necesario pulsar el icono del lápiz para introducir más información.
Once the tax return has been completed, it is advisable to validate what has been completed by clicking on the "Validate tax return" button, although warnings and errors may appear that do not affect you or are exclusive to allow a correct validation. Pulsando el botón "Ir al Error" o "Ir al Aviso" te situará en la casilla que necesites modificar o cumplimentar. No obstante, hay que tener en cuenta que desde la versión "Simulador modelo 390 (OPEN)" no podrás presentar la declaración.
Si quieres recuperar la declaración cumplimentada en otro momento, pulsa el botón "Guardar" para obtener el fichero .ses, que puedes recuperar en la ventana inicial o en botonera de la parte superior, pulsando "Cargar".You can choose the location where the file will be downloaded and, if you do not choose a directory, it will be saved by default in the browser's default folder. El fichero tendrá por nombre NIF del declarante-390-ejercicio de la declaración, con la extensión .ses
NOTA. Ten en cuenta que el archivo con extensión .ses, obtenido al guardar la simulación de la declaración, sólo se puede cargar en el "Simulador modelo 390 (OPEN)".
The "Simulator Form 390 (OPEN)" allows the generation of a draft in PDF format that is displayed on screen, however, by clicking "You can click here to download the pdf", it is possible to download it to your computer; ten en cuenta que para la corrrecta visualización del borrador necesitas un visor de PDF, recomendamos la última versión compatible con tu sistema operativo. Recordamos que este documento no es válido para su presentación. Haz clic en "Borrador".
Para volver a la declaración haz clic en "Volver a declaración" situado en la parte superior de la ventana del borrador o puedes dar de alta una nueva simulación desde el botón "Nueva declaración".
El botón "Ayuda" situado en el margen derecho ofrece un PDF, que se abre en una pestaña nueva, con las instrucciones de cumplimentación y otras cuestiones generales.You also have an online help service via the "ADI Need help?"in the corner of the window, which you can use to access a chat with an agent, request a call back or make an appointment to be contacted at a specific time.