2021 Income Tax
Skip information index
2021 Tax Data Consultation
The 2021 tax data query is available on the procedures page of form 100, in the "Previous years" section, identifying yourself with Cl@ve, the current campaign's Income Tax reference, digital certificate or electronic DNI.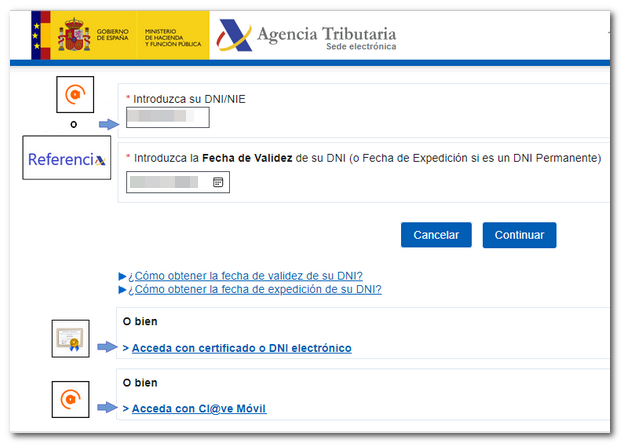 Enter your DNI or NIE to log in with Cl@ve or with the reference of the current campaign, or log in with Cl@ve Móvil scanning the QR with the Cl@ve app or using the link "Access with a certificate or electronic DNI" to identify yourself with an electronic certificate or DNIe.
On the next screen, choose the link available for the type of access chosen, which will vary depending on your situation.
If you log in with an electronic certificate/DNI or Cl@ve, you will see the window where you have to indicate whether you are in your own name or as a representative. Mark the corresponding option and click on "Confirm."
If you choose the reference identification, provide the last valid reference you have obtained. If you do not have it, click on "I have no Reference" to obtain it. Remember that you can use the Tax Agency's APP to obtain a reference. You will need box 505 of your 2021 Income Tax return. If you did not file the 2021 tax return, you will be asked for the last 5 digits of an IBAN account of which you are the holder and which is identified by the Tax Agency.
After identifying yourself through any of the three channels, you will access the tax details that appear to the Tax Agency for the 2021 financial year.