How to modify details or cancel the Cl@ve service
Skip information index
Modification of the telephone number with certificate or DNIe
The modification of the telephone number communicated in the system Cl@ve can be done immediately if you have a certificate or electronic DNI from the option "Modificar el teléfono con certificado o DNI electrónico" of the "Registro Cl@ve" portal of the E-Office.
You can also modify it from the application Cl@ve PIN for mobile devices in the "Procedures" category, located at the bottom of the screen, then click on "Modify telephone number".Linked to Cl@ve" and choosing "WITH ELECTRONIC CERTIFICATE OR DNI (WEB)" that will connect you to the website.Requires an electronic certificate to be installed on the device or DNIe.
After identifying yourself with your digital signature (certificate or DNI electronic), your details and the telephone number registered at Cl@ve will be displayed. To change it and register a new phone number, delete the previous phone number and fill in the box with the new mobile phone number, confirming it in the next box.You can choose either a Spanish or a foreign telephone number.If you choose to use an overseas number, you must also provide the country code.Read the terms and conditions of the Cl@ve system and tick the box "I have read and accept the terms and conditions".
Finally, click "Send".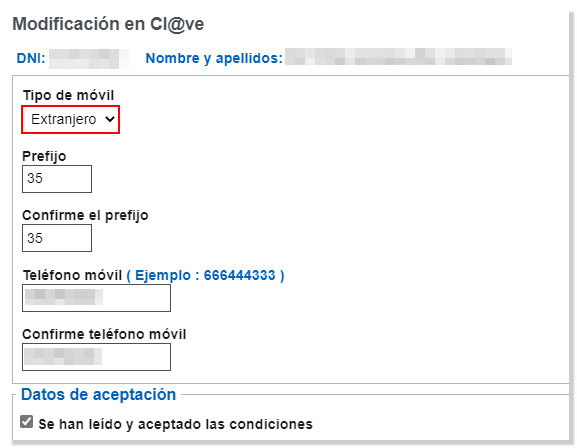 In the following window you will see an overview of the data that has been saved, with the new mobile phone number.
Click on "View in Pdf" to obtain proof of the change made.