Cómo obtener el borrador o declaración en Renta WEB con Cl@ve PIN
If you have registered in the Cl@ve PIN system, you will be able to access the draft or tax return processing service, Renta WEB, to generate your tax return with the data available at AEAT and modify it by adding the data you consider appropriate.
Go to Renta 2021 and, under "Gestiones destacadas", click on "Servicio de tramitación borrador /declaración (RENTA WEB)".
Depending on the identification systems you have, the system will show you the existing access options.In case of access with Cl@ve PIN, enter your DNI or NIE to start the process.
In the next window, indicate the contrast data according to the type of document:
Validity date

for DNI;

Issue date

, for permanent DNI (01-01-9999);
Support number

, if it is a NIE.
En la parte inferior dispones de los enlaces de ayuda correspondientes para localizar en tu documento de identidad el dato requerido.
After you have successfully entered the data, press "Continue".
En la siguiente ventana puedes pulsar directamente en el botón "Obtener PIN".
After identifying yourself with Cl@ve PIN, select the type of action: en nombre propio o como representante.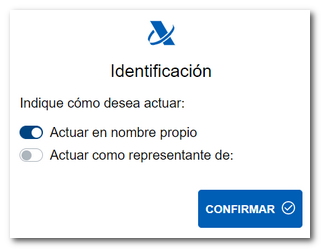 Accederás a los servicios disponibles de tu expediente. Para consultar el borrador, modificarlo o presentar la declaración, selecciona "Borrador/Declaración (Renta WEB)".
Si ya has accedido a Renta WEB anteriormente, en una ventana emergente se informará de la existencia de una sesión de trabajo previa, que puedes recuperar desde la opción "Continuar sesión". Si ya existe una declaración presentada y deseas modificarla, pulsa "Modificar declaración presentada". También puedes comenzar una "Nueva declaración", incorporando los datos fiscales.
Podrás escoger la lengua cooficial en la que deseas realizar la declaración.
Identification details
Si es la primera vez que accedes, se mostrará una ventana inicial con los datos identificativos del declarante y del resto de declarantes de los componentes de la unidad familiar. Revisa los datos y realiza las modificaciones necesarias antes de continuar. Ten en cuenta que algunos datos como el estado civil o la información sobre hijos menores de edad o incapacitados judicialmente sometidos a patria potestad prorrogada o rehabilitada no podrán ser modificados posteriormente.
Si no deseas introducir los datos fiscales del cónyuge (si se indica como estado civil "Casado/a"), debes marcar la casilla para el cálculo de la declaración individual.Otherwise, you will not be able to proceed as the spouse's identification with reference or Cl@ve PIN is requested.
Declaraciones con cónyuge
En declaraciones con cónyuge, si deseas comparar el resultado de la declaración en las distintas opciones de tributación, individual o conjunta, necesitarás el número de referencia del cónyuge o un código PIN que autorice el acceso.In this case, click on the "Reference/ Cl@ve PIN" button under the heading "Spouse authorisation" and identify the spouse using one of these systems.
Traslado de datos con información adicional
Tras aceptar la pantalla de datos identificativos, si la aplicación detecta que se deben trasladar a la declaración datos fiscales adicionales, sigue las instrucciones de las siguientes ventanas para incorporar esta información.
Si no necesitas incorporar información adicional para generar la declaración, accederás directamente al resumen de resultados desde donde podrás comprobar el resultado de la declaración para cada modalidad y completar la declaración, si fuera necesario.
Resumen de declaración
In menu at the top you have the options to "Continue with the tax return" (you can access all its sections), "Personal details", "See transferred information" (tax details) and "Save" (so you can retrieve the tax return in a later session). También dispones de vídeos explicativos y, en el icono de la interrogación, el acceso al manual de ayuda para la presentación de la declaración de Renta.
Desde el Resumen de declaraciones, dentro de cada modalidad, puedes obtener una "Vista previa" en PDF, comprobar tus datos fiscales o presentar la declaración.