Modelos del 199 al 282
Skip information index
Modelo 233 Presentación de la declaración
Access to the filing of Form 233 can be made with an electronic certificate or electronic DNI and, if the taxpayer is an individual, also with Cl@ve PIN.
Además del titular de la declaración, la presentación puede realizarla un tercero que actúe en su nombre, ya sea un colaborador social o un apoderado a realizar el trámite general o el trámite específico, GI45P.
Para identificarte con certificado o DNI electrónico haz clic en "Acceda con certificado o DNI electrónico" y para identificarte con Cl@ve PIN introduce el DNI o NIE en la casilla.
When accessing the procedures on Form 233, a notice will inform you that this informative tax return is for the exclusive use of school owners and should not be submitted by parents or guardians.
En la ventana inicial "Cumplimentar la solicitud" consigna el NIF del declarante y el ejercicio de la declaración.
If the taxpayer is a natural person, fill in the surname and first name.If they are a legal person or an entity under an income allocation scheme, please complete the "Name or Business Name".Click on the button "Presentar" to continue filling in the declaration.
La declaración contiene los siguientes apartados:
Declarante
The declarant's details previously entered are loaded and all the contact details of the person to whom any information relating to the processing of the declaration should be sent must be indicated.
Registro del declarado
Puedes optar por la inclusión de los declarados a través del formulario, cumplimentando los datos de todos los campos marcados con asterisco.
El "Identificador" es un campo a elección del declarante, que debe ser único, ya que, una vez utilizado, no puede volver a usarse en el ejercicio a que se refiere la declaración.In addition, NIF and name and surname of the mother or person who has guardianship and custody of the minor and, optionally, the same details for the other parent.
Después se indicarán los datos del menor.
En el apartado "Meses completos que el menor ha estado en la guardería o centro de educación infantil", maraca S (Sí) o N (No), teniendo en cuenta, que sólo se introducirá S (Sí) en el caso de que el menor hubiera estado el mes completo.
A continuáción, habrá que consignar el importe total satisfecho incluyendo gastos de preinscripción, matrícula, asistencia en horario general y ampliado y alimentación y el importe subvencionado.In no case shall amounts paid by the company or employer of the mother, father, guardian or foster carer of the child be included in these fields.
Por último, deberás indicar en el campo "Autorización del centro", la autorización expedida por la administración competente, así como el nombre de la Comunidad Autónoma o del Organismo Autorizado y, opcionalmente, la fecha de finalización de la autorización.
Para continuar incorporando registros de declarados, pulsa el botón "Añadir".You will be able to see that the data will be loaded in the "Content" box in the file import section, located at the bottom.
If "Add" or "Submit" detects errors in the data entered, their description will be displayed in the table "Errors detected", together with links to the fields to be revised or corrected.
Importación Ficheros
La otra alternativa para incorporar declarados es importar un fichero con formato CSV separado por ";" con los datos ajustados al diseño de registro publicado para el modelo 233. Pulsa el botón "Examinar" y localiza el fichero que contiene los datos de tu declaración.
Ten en cuenta que, si has introducido los registros de forma manual mediante la opción "Registro del declarado" e importas después un fichero, perderás los datos ya incorporados.
Once all the relevant records have been filled in or the file has been imported, click on "Submit".
In the next step, "Sign and submit Application", review the data and click on "Sign and submit".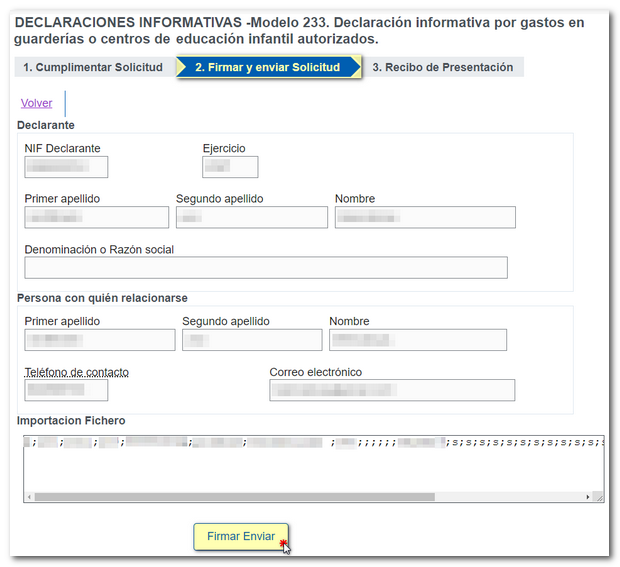 Se mostrará una nueva ventana con los datos codificados de la declaración.Check "Conforme" and click "Sign and Send".
If the submission is successful, the system will display the following notice "Process successful" together with the details of the submission (date and time, code CSV and NIF of the submitter).