Modelos del 199 al 282
Skip information index
Modelo 233 Consulta y modificación de datos
Once the Form 233 has been filed, you can consult some of the data submitted and make modifications to them, if necessary.
Los sistemas de identificación válidos para la consulta son los mismos que para la presentación:electronic certificate or DNIe and Cl@ve PIN, as long as they are natural persons.In addition to the declaration holder himself, the consultation may be carried out by a third party acting on his behalf, either a social collaborator or a proxy to carry out general procedures or the specific procedure.
Para identificarte con certificado o DNI electrónico haz clic en "Acceda con certificado o DNI electrónico" y para identificarte con Cl@ve PIN introduce el DNI o NIE en la casilla y a continuación el dato de contraste.
To perform the search, enter "Fiscal Year" and "Tax ID of the Declarant" as obligatory fields and the box "Identifier"in case you wish to consult and/or modify a specific record. Pulsa el botón "Buscar" y se mostrará un listado de los registros declarados.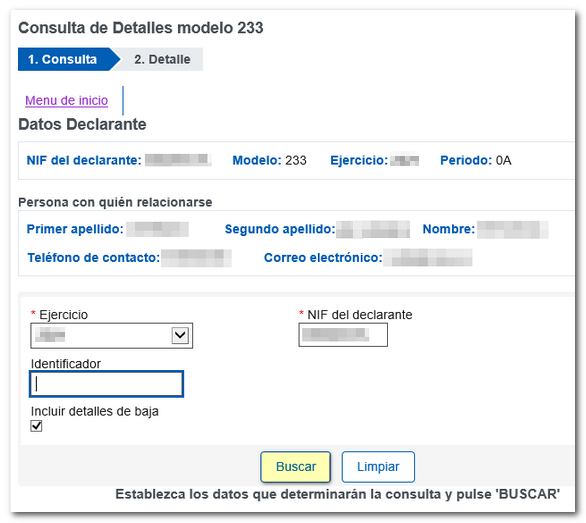 En la parte superior de la pantalla, se habilitan los enlaces siguientes:
"Menú de inicio"(en el caso de que se desee presentar una nueva solicitud/declaración)
"Modify contact details", relating to the taxpayer
"Modificación masiva"
For the records declared, it is also possible to access each detail record to modify, delete or reactivate it by clicking on the "Identifier" link in the results table.
Modificar los datos de contacto y/o número de autorización
Esta opción permite modificar la casilla "Autorización del Centro" y las casillas relativas a los "Datos de la persona con quién relacionarse". Después, pulsa el botón "Validar". A continuación, pulsa "Firmar y Enviar". Aparece una ventana emergente en la que tendrás que marcar la casilla "Conforme" y "Firmar y Enviar", mostrándose en un cuadro de texto la información que se va a presentar.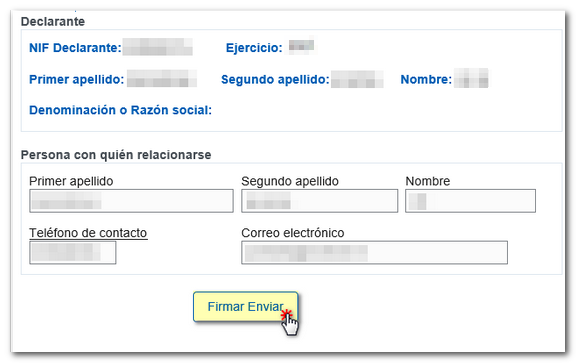 Modificación masiva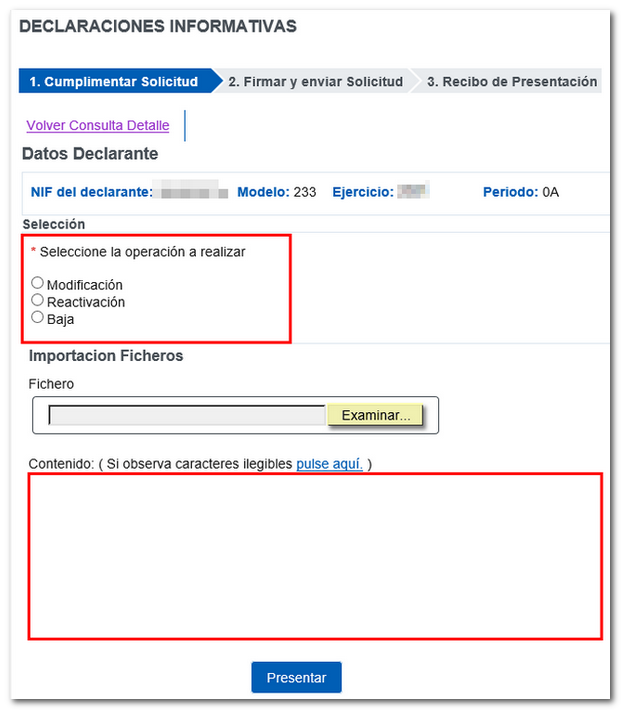 Mediante esta opción se podrán realizar las siguientes modificaciones:
"

Modificación

": permite importar un fichero con formato CSV separado por ";" que incorporará las modificaciones que deseas introducir sobre una presentación ya realizada. Haz clic en el botón "Examinar" y localiza el fichero CSV que contiene los datos. La presentación de estos datos también genera un recibo de presentación con Código Seguro de Verificación.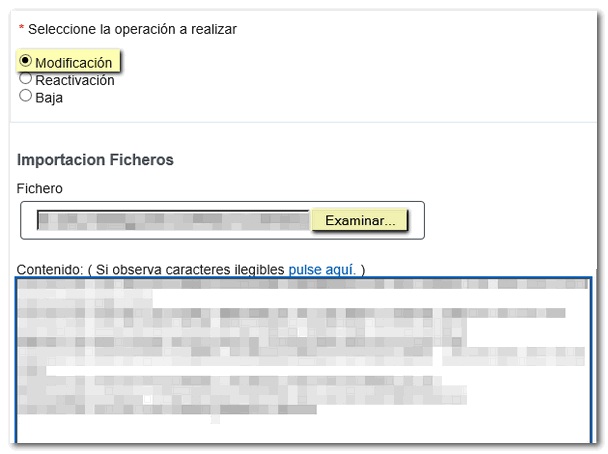 "

Baja

":allows you to delete reported records, either by importing a file CSV separated by the character ";" with the data adjusted to a single column, indicating the

identifiers

of the records you want to delete, or by entering them manually in a single column in the text box below, "Content".
"

Reactivación

":allows you to add back records that have previously been deleted by clicking on the "File" button. Puedes importar un fichero CSV separado por ";" o introducir los identificadores de los registros en una sola columna en el cuadro "Contenido". En el caso de que se introduzcan identificadores que no estén previamente dados de baja, saldrá un mensaje de error indicando la línea del registro que no se ha dado de baja previamente.
If you wish to consult, modify, cancel or reactivate one or several specific records manually, without importing files, you will have to enter in the initial consultation screen the boxes "Fiscal year" and "NIF of the Declarant" as obligatory fields and the box "Identifier" as an option. Asimismo, tendrás que marcar la opción "Incluir detalles de baja", si deseas consultar los registros que previamente hayas dado de baja.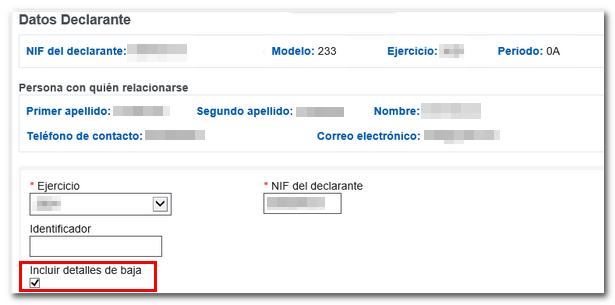 In the middle part of the screen are the "Search" and "Clear" buttons.
By clicking on the "Search" button, a list of the records entered will appear, indicating the status of the records, whether they are in the status of Registration/Reactivation/Deregistration (the latter, in the case of cancellation of the record and provided that the option Identify deregistration details has been ticked).
The "Clear" button can be used to delete the boxes entered.
To enter a specific record, click on the link in the "Identifier" column of the record you want to view.A new window displays the options that are available for that particular registration.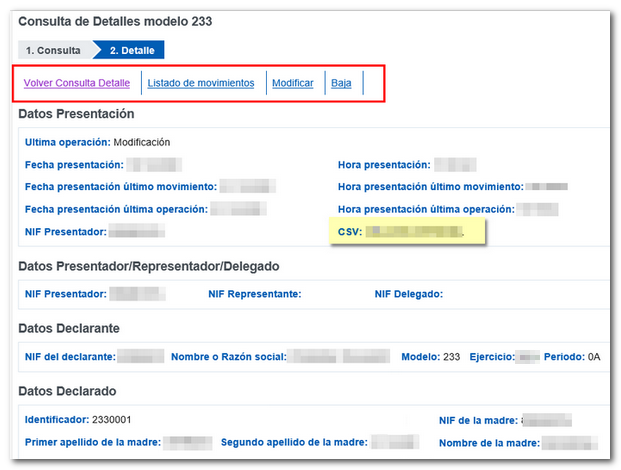 "Listado de movimientos"muestra los movimientos que se han producido en ese registro, junto con la fecha y hora del correspondiente movimiento.
También se habilitarán las opciones disponibles para cada registro: modificar, baja o reactivar, generando en cada caso el correspondiente recibo de presentación con un Código Seguro de Verificación asociado.