Modelos del 181 al 189
Skip information index
Modelo 188 Presentación mediante formulario
Form 188 filing by form is available for returns with less than 40,000 records and requires identification with a certificate, electronic ID or Cl@ve PIN of the declarant. Para ficheros de mayor tamaño has de utilizar la presentación mediante fichero. Además del propio titular de la declaración también puede presentarla una persona o entidad que actúe en su nombre, ya sea un colaborador social o un apoderado a realizar el trámite.
Accederás a una ventana inicial de captura de datos.Enter the NIF for the taxpayer filing the declaration, and select one of the available options:
The button "Import" allows you to load a file previously generated, either by the form itself or with an external programme, that fits the published logical design.
The "Import previous year" button will import the previous year's data from the active records of the previous year at the time of the query;To do this, you must access the form using the electronic certificate, DNI or Cl@ve PIN of the filing taxpayer, corporate collaborator who submitted the tax return the previous year or a proxy who submitted the tax return the previous year or a proxy to the consultation of the tax return.It is not possible to import data from the previous year if the tax return exceeds 40000 records.
El botón "Continuar" da acceso al formulario para su cumplimentación en línea y presentación.You can find 3 options:
In case there is a saved but not submitted working session and you wish to recover it, check the box "

Load working session from dd/mm/yyyy

";
Si ha presentado una declaración y desea realizar modificaciones en ella, como son:deletion, modification or addition of records, check the box "

Load the tax return submitted on dd/mm/yyyy hh:mm:ss

";performs modifications, additions or deletions from the "Recipients or insured persons" pages.
Para dar de alta una nueva declaración marca la casilla "

Crear una nueva declaración

".
Select an option and click "Continue".
Tras la ventana inicial accederás al formulario. Las casillas marcadas con asterisco son obligatorias.
The section "Taxpayer and return summary" is auto-completed with the data entered in "Recipients or insured persons".
In the "Recipients or insured persons" section you will see buttons at the top of the window where you can register the different records, as well as delete them or consult them.To register a taxpayer, click "New record", identified with a blank sheet and a green '+' sign.
To consult or modify the details of a declarant, select the declarant and click on "View the selected beneficiary or insured person".
Una vez cumplimentados los datos de un perceptor o asegurado, en esta misma ventana podrás dar de alta más registros o volver a la lista de perceptores o asegurados desde el botón "Volver a la lista perceptores o asegurados".
Desde la lista de perceptores o asegurados, puedes realizar consultas estableciendo criterios de filtrado.Click on "Consultations" at the top, in the new window set the filtering criteria(s) and click on " Consultation", a new tab will be activated at the bottom called "Consultation" next to the tab "Sections" with the information according to the criteria you have set.
In the list of recipients or insured persons, the column "Status" has been enabled, where you can check the correct and incorrect entries by the icon.
Si has cargado una declaración anteriormente presentada, en la columna "Presentado el" se mostrará la fecha y hora en que fue presentado ese registro, con la posibilidad de modificarlo o darlo de baja si fuese necesario.

Pulsa "Validar" para comprobar si existen errores. Si existen, aparecerá la descripción del error o el aviso y el botón "Ir al Error" o "Ir al Aviso", que te dirigirán al campo correspondiente.Using the option "Download error list" a file will be generated in XML format with all the errors detected, which you can open or save on your computer.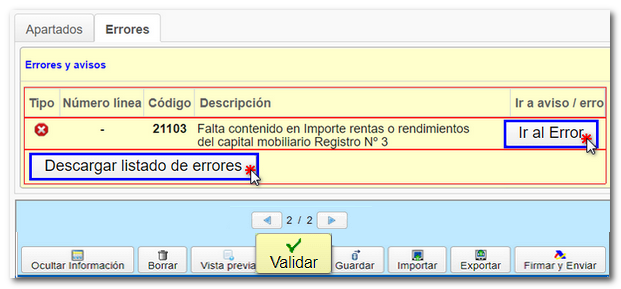 If the tax return does not contain errors, you will receive the message "There are no errors".
Además, si antes de presentar la declaración quieres obtener un borrador para revisar los datos, dispones de la herramienta "Borrador" para generar un PDF no válido para su presentación con tu declaración.
La opción "Guardar" permite almacenar los datos cumplimentados hasta ese momento en los servidores de la AEAT, aunque no esté validado (puede contener errores o estar incompleto), si ya existe una declaración guardada anteriormente se sobreescribirá. La recuperación de estos datos se realiza la acceder nuevamente al formulario web pulsando "Continuar", una vez introducido el NIF, si existe una declaración guardada para ese NIF el servidor lo detectará y te dará opción a recuperarla.
El formulario tiene un tiempo de espera por inactividad, te recomendamos que guardes la declaración para evitar la pérdida de datos.
Mediante el botón "Exportar" podrás generar un fichero .188.
The "Import" allows you to import the information from a file generated by the form, or with a third-party program, created according to the registry design.
Pulsa "Importar" y selecciona el fichero.Once you have selected the file, the application will offer you two possibilities:
A - Borrar todos los registros de perceptores o asegurados e importar

. Con esta opción borrará toda la declaración actual y obtendrás una nueva declaración con los datos que hubiese en el fichero importado.

B - Agregar registros de perceptores o asegurados a la declaración actual

.This will keep the current tax return and add the new records to the existing ones.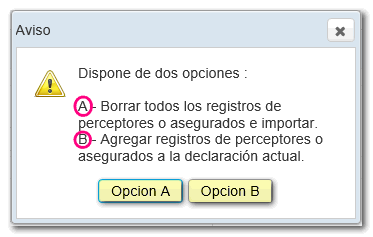 Después de validar y guardar la declaración, podrás presentarla pulsando el botón "Firmar y Enviar".
Se mostrará un aviso informando del número de registros correctos y erróneos que han cumplimentado. Si deseas volver a la declaración para corregir los errores antes de presentar pulsa "NO". Si prefieres presentar en este momento los registros correctos y, posteriormente, corregir los errores y presentar una nueva declaración, pulsa "Si".
Marca "Conforme" y pulsa "Firmar y Enviar" para continuar con la presentación.
On screen, you will be shown a PDF of the successful tax return, the CSV confirming the authenticity of the document and the option of returning to the tax return or generating a new one.
En caso de haber presentado una declaración con parte de registros válidos y algunos incorrectos, se presentarán los correctos y te avisará de que vas a enviar una declaración parcial. Recupera la declaración presentada, realza las modificaciones altas o bajas correspondientes y presenta una nueva declaración.
Note: please note that the usual options for supplementing and substituting are not available on this form.Once the necessary corrections have been made, the full tax return must be submitted, including all records to be declared.