Forms 181 to 189
Skip information index
Form 189
Access to the procedure requires identification with an electronic certificate from the taxpayer or a person or entity authorised to make submissions on behalf of others:corporate partner or proxy.
As the submission of incorrect or unidentified entries will not be accepted, we recommend that you do not postpone submissions and allow sufficient time to correct erroneous entries.Likewise, in order to avoid identification errors, we recommend that you previously purge the taxpayer census of each company through the Tax Identification service.
It will be necessary to have a file with the tax return to be sent, with the data adjusted to the published registry design.
Fill in the NIF of the taxpayer and verify the data in the fields "Form" and "Fiscal year".
To send a new file click on "Read File" and select the file to validate.From the "Recover" option you can reload the last file validated by the application for that form, financial year and NIF.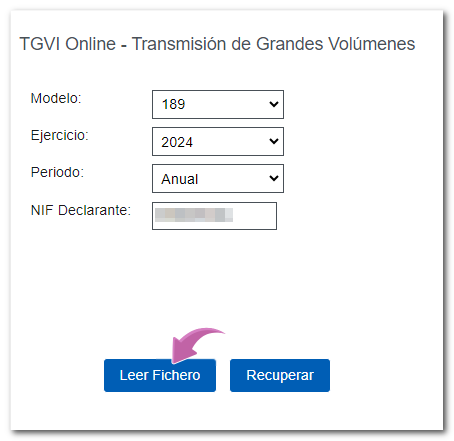 Verify that the data identifying the taxpayer, the form and the financial year are correct and click on "Validate" to send the file.

During the sending, two progress bars will appear informing the validation percentage of both the file and the records.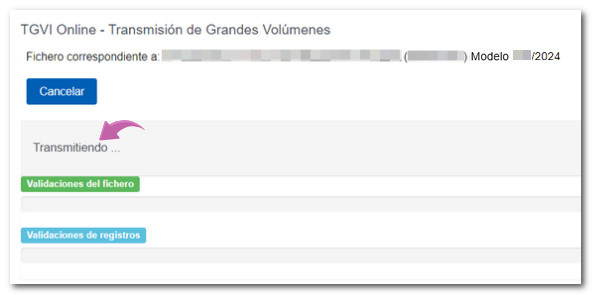 If the validation is correct, you will be able to process the submission and obtain the corresponding receipt.If errors are detected, the breakdown of correct and incorrect records will be included and the options "Submit correct records", "Download incorrect records" and "Download error messages" will be available.
Submitting correct records
Select this option to display only the correct records.In the next window, check "OK" and click "Sign and Send".
You will only obtain your tax-return receipt with correct records submitted in an embedded PDF, which you can save and print.The document contains the filing information:registration entry number, Secure Verification Code, receipt number, date and time of filing and presenter information.
Incorrect records that have not been submitted must be subsequently corrected for submission by supplementary tax return.
Download incorrect records
With this option you can download a text file (adjusted to the published design) with all the incorrect records.
The downloaded file will be updated to be consistent with the number of records included.In addition, the type 1 register (taxpayer and summary) will already include its own identification number, the supplementary mark and the receipt of the previous filing.
This file is to be corrected and filed.It does not contain information about the errors detected.
Download error messages
The downloaded text file contains the detail of the errors detected for each type 2 (Taxpayers) incorrect record.Each line will show an incorrect detail record with its corresponding error message.You need to move the scroll bar to the end of the lines in order to display the error codes and descriptions.
This file is for information only.It will be useful to identify the errors detected and correct them before submitting them.
>