Previous years
Skip information index
Assets 2017-File filing
If you have a file that is adjusted to the specific registry design for form 714 of 2017, or that has been saved previously with the 2017 Wealth Tax processing service available in the E-Office, you can file the tax return.
To access the account, you must identify yourself with an electronic certificate, DNIe, Cl@ve or a reference number of Income that has been obtained for the last Income Tax campaign.
After identification, the requirements for filing appear and the "Read tax return" button to select the tax return file.
A summary of the tax return will be loaded with the identification details, economic data and the result of the tax return.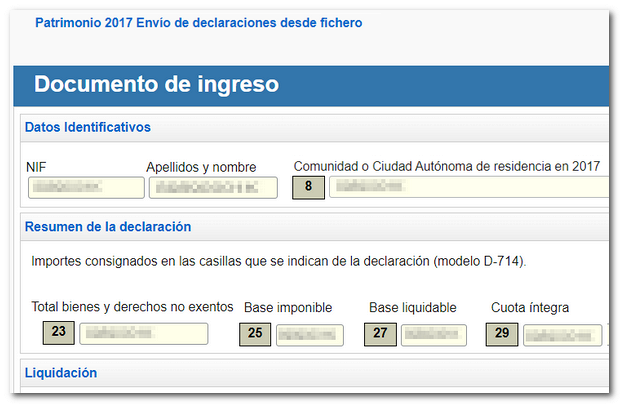 If the result is a payment, you must include the NRC (payment receipt). You can obtain it instantly by clicking on the button "Make payment. Obtain NRC "or select one of the debt recognition options.
Once all the details have been filled in correctly, click "Sign and Send" to make the presentation. In the next window, tick the "OK" box and click "Sign and Send" to complete the filing process.

The result of a correct filing will be a supporting page, with the assigned CSV, the link to the "Cotuno" option document listing... "and a PDF embedded with the information on the presentation (registration entry number, Secure Code of verification, receipt number, day and time of presentation and details of the presenter) and the full copy of the tax return.