Modelos del 190 al 198
Skip information index
Modelo 198 Presentación mediante formulario
If the number of records exceeds 40000, the submission must be made via the link "Form 198.Financial year 2021.Submission (up to 40,000 records)".
Filing online requires identification with the electronic certificate, DNIe or Cl@ve PIN of the taxpayer.If you are going to use a certificate or electronic DNI click on the link "Access with certificate or electronic DNI " and, if you are going to use Cl@ve PIN, enter DNI or NIE in the box.
In addition to the holder of the tax return themselves, a third party acting on their behalf, either a corporate partner or a proxy, may also submit the tax return.
The filing is done using TGVI online, a system that validates whether the file contains correct records along with other incorrect ones, allowing only the correct records to be partially filed and downloading a file with the detail of the records with errors.
We recommend that you clean up the tax register of your recipients prior to filing the tax return through the Tax Identification service to avoid identification errors.
To correctly view all parts of the form, before accessing, check the zoom and font size set in the browser (once the tax return has been submitted you can go back to the previous zoom and font size).
On Internet Explorer, go to "View" on the menu bar (if not activated, click the F10 key), "Text Size" and select "Medium", in "Zoom" select 100%.You can also select the zoom from the nut icon.

In Microsoft Edge, click on the three horizontal dots. In zoom, select 100% using the "+" and "-" symbols. Click on the three horizontal dots again to enter "Settings". Select "Appearance" and under "Fonts", "Font size" select "Medium (recommended)". Under "Page zoom" select 100%.

In Google Chrome, go to "Settings" (by clicking the three vertical dots), "Appearance", "Font Size" and select "Medium (recommended)". Under "Page Zoom" select 100%.You can also select 100% zoom from "Zoom in/out".

On Mozilla Firefox, access the three line icon, in "Size" select 100% with the "+" and "-" signs, click "Options", "General", "Language and appearance" and in "Fonts and colours" select a size lower than the current one, if you do not see the form correctly.

On Safari, go to "View", "Zoom" or "Zoom Out".
After logging in, in the pop-up window, choose one of the options to access the form:
Continue.

Permite dar de alta una nueva declaración introduciendo todos los datos.Enter the taxpayer's NIF and click on "Continue".

Import.

Podrás importar un fichero con formato BOE que siga el diseño de registro del modelo 198 en vigor, obtenido con el propio formulario exportando la declaración o con un programa ajeno.The limit of records to be imported will be 40,000;

Import previous year

. Se importarán los datos del año anterior de los registros activos del ejercicio anterior en el momento de la consulta;To do this, you need to access the form with a certificate / DNI or Cl@ve PIN of the taxpayer, social collaborator who filed the tax return the previous year or a proxy who filed the tax return the previous year or a proxy to consult the tax return. No es posible importar datos del año anterior si la declaración supera los 40.000 registros.
Fill in the "NIF" box and click "Continue". Si hubiese una sesión de trabajo guardada o una declaración previamente presentada, la aplicación te mostrará las opciones disponibles:
In case there is a saved but not submitted working session and you wish to recover it, check the box "

Load working session from dd/mm/yyyy

";
If you have submitted a tax return and wish to make changes to it, such as:deletion, modification or addition of records, check the box "

Load the tax return submitted on dd/mm/yyyy hh:mm:ss

";
To create a new tax return check the box "

Create a new tax return

"
Select an option and click "Continue".
En la primera ventana: "Datos del declarante", para dar de alta una declaración, cumplimenta las casillas marcadas con asterisco ya que son obligatorias. Las casillas de los campos "Resumen de los datos incluidos en la declaración" se autocumplimentan con los datos introducidos en el apartado "Declarados".
Se han eliminado las casillas de "Declaración complementaria", "Declaración sustitutiva" y "Número indentificativo de la declaración anterior". Para modificar una declaración ya presentada, carga la declaración presentada en la ventana inicial marcando "Cargar la declaración presentada el dd/mm/aaaa hh:mm:ss" y, dentro de la pestaña "Declarados", realiza los cambios que necesites:delete and modify existing records or register new records.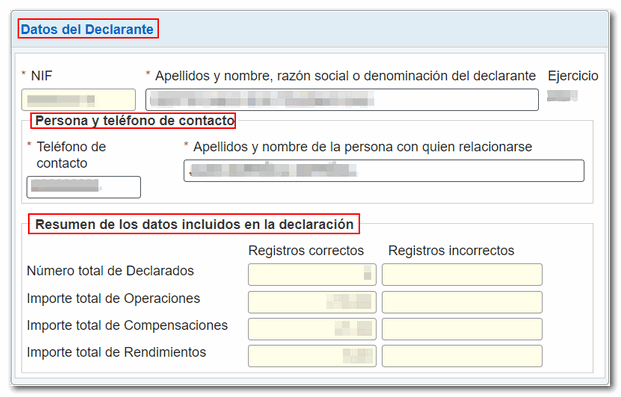 Después de cumplimentar los datos del declarante, desde la pestaña "Apartados", accede a los "Declarados" para dar de alta las operaciones.

En el apartado "Declarados" encontrarás una botonera desde la que puedes dar de alta, baja y navegar entre los declarados. Para dar de alta un declarado haz clic en el icono "Nuevo registro" identificado por una hoja en blanco con el signo "+" en verde.
Si has dado de alta varios declarados, para consultar uno concreto, márcalo y pulsa "Ver la operación seleccionada".
Si has cargado una declaración anteriormente presentada, en la columna "Presentado el" se mostrará la fecha y hora en que fue presentado ese registro, con la posibilidad de modificarlo o darlo de baja si fuese necesario.
Una vez cumplimentados los datos de un registro, en esta misma ventana puedes dar de alta, borrar y moverte entre ellos o volver a la lista de declarados desde el botón "Volver a la lista de operaciones".
The "Status" column has been enabled in the list of taxpayers, so you can check the correct and incorrect records by the icon.

Desde la lista de declarados, puedes realizar consultas estableciendo criterios de filtrado. Pulsa "Consultas" en la parte superior, en la nueva ventana establece el/los criterio/os de filtrado y haz clic en "Consultas".

A new tab will be activated in the lower part called "Consultation", next to the tab "Sections" and "Errors", with the information according to the established criteria. La información del registro se extiende en una sola fila a lo ancho del formulario por lo que es necesario utilizar la barra de desplazamiento horizontal para consultar el resto.However, by double-clicking on any of the results, the registration information appears at the top of the form.
At the bottom of the screen you can find the options available in the form. Si no visualizas correctamente los botones o apartados comprueba el tamaño de letra y el zoom que tienes configurado en el navegador.
Para comprobar si existen errores en la declaración pulsa el botón "Validar".If it contains errors or warnings, the "Errors" tab will be enabled with the description of the error or warning and the "Go to Error" or "Go to Warning" button, as appropriate, that will directly bring you to the box to be modified or filled in.Using the option "Download error list" a file will be generated in XML format with all the errors detected, which you can open or save on your computer.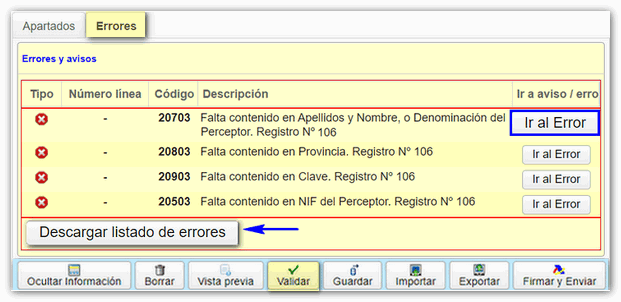 If the tax return does not contain errors, you will receive the message "There are no errors".

Además, si antes de presentar la declaración quieres obtener un borrador para revisar los datos, dispones de la herramienta "Borrador" para generar un PDF no válido para la presentación con tu declaración.The draft will be displayed on the screen; no obstante, desde el enlace "clic aquí para descargar el pdf" es posible descargarlo en tu equipo;please note that for the correct display of the draft you need a viewer of PDF, we recommend the latest version compatible with your operating system. Para volver a la declaración haz clic en "Volver a declaración" situado en la parte superior de la ventana del borrador o puedes dar de alta una nueva declaración desde el botón "Nueva declaración".
La opción "Guardar" permite almacenar los datos cumplimentados hasta ese momento en los servidores de la AEAT, aunque la declaración no pase la validación (puede contener errores o estar incompleto). Ten en cuenta que si ya existe una declaración guardada anteriormente se sobreescribirá. La recuperación de estos datos se realiza la acceder nuevamente al formulario web pulsando "Continuar", una vez introducido el NIF, si existe una declaración guardada para ese NIF el servidor lo detectará y te dará opción a recuperarla marcando "Cargar la sesión de trabajo del dd/mm/aaaa".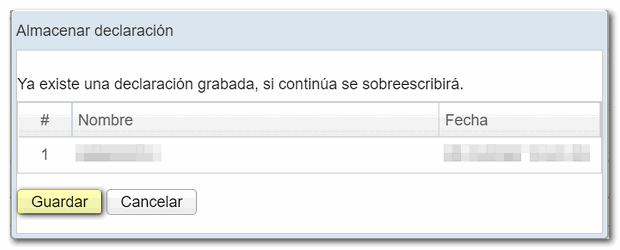 El formulario tiene un tiempo de espera por inactividad, te recomendamos que guardes la declaración para evitar la pérdida de datos.
Mediante el botón "Exportar" puedes generar un fichero con el formato del diseño lógico publicado, siempre que la declaración no contenga errores y guardarlo en la ruta que desees. Este fichero tiene el nombre NIF y la extensión .198.You can retrieve this file by accessing the web form again and clicking "Import" in the initial window or the "Import" button at the bottom of the form.
The "Import" button allows you to import a file, which has been made according to the current registry design. Pulsa "Importar" y selecciona el fichero.
Once you have selected the file, the application will offer you two possibilities:
A - Delete all taxpayer records and import

. Con esta opción borrará toda la declaración actual y obtendrás una nueva declaración con los datos que hubiese en el fichero importado.

B - Add taxpayer records to the current tax return

.This will keep the current tax return and add the new records to the existing ones.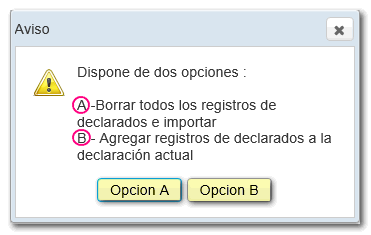 Using the "Help" button, you will be provided with a PDF with all the regulations and information regarding the form, as well as the deadline, filing method and location, and the record design of Form 198.

After validating and saving the tax return, you can submit it by clicking on the "Sign and Send" button.In the new window, check the "OK" box to confirm the filing of the tax return.The text box will show the content of the tax return in code.Finally, click "Sign and Send" to continue the filing.

El resultado de una presentación correcta será una página de respuesta con un PDF incrustado que contiene una primera hoja con la información de la presentacon (número de entrada de registro, Código Seguro de Verificación, número de justificante, día y hora de presentación y datos del presentador).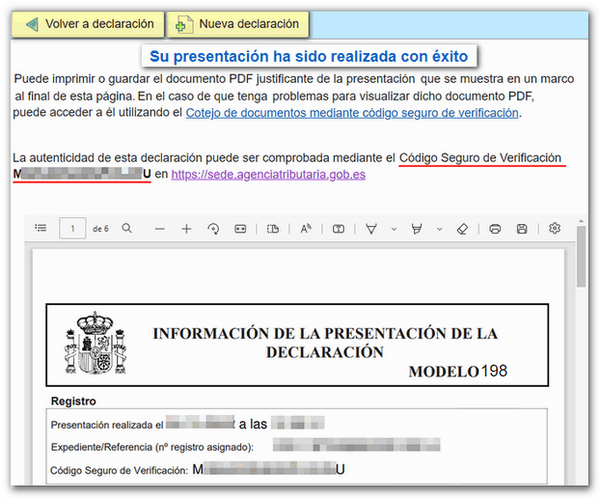 No obstante, si al presentar la declaración, existen unos registros correctos y otros erróneos, se permitirá presentar solamente los registros correctos. Si deseas presentar los correctos pulsa "Si". Posteriormente deberás volver a la declaración, corregir los errores y realizar una nueva presentación de la declaración completa, incluyendo todos los registros: tanto los ya presentados como los pendientes.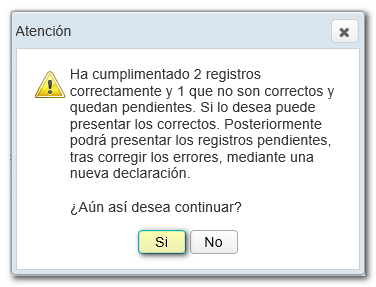 After submitting the correct records, the PDF will appear in a new window, with the filing receipt and the summary of tax return data submitted with totals of correct and incorrect records.
Click on "Back to tax return", you will see that the complete tax return has been uploaded with all the records, both the correct and the incorrect ones.
Correct incorrect records and, if you wish, you can delete records or add new ones. Valida la declaración y vuelve a enviar la declaración completa con todos los registros, esto es, los presentados anteriormente correctos más los modificados y/o los que ha dado de alta.