Modelos del 190 al 198
Skip information index
Modelo 190 Presentación mediante fichero
La presentación mediante fichero del modelo 190 se realiza mediante TGVI online. Esta vía de presentación esta disponible para ficheros voluminosos, obligatoriamente para aquellos que superen los 40.000 registros, aunque se permitirá la presentación de ficheros con cualquier número de registros.
Mediante esta opción, si el fichero contiene registros correctos junto a otros erróneos, puedes presentar parcialmente los registros correctos y descargar los registros erróneos que no han sido presentados, además del motivo del error en un fichero txt para posteriormente, una vez subsanados los errores, enviarlos mediante declaraciones complementarias.
We remind you that the available submission methods, web form and file, are mutually exclusive; es decir, la primera declaración presentada condiciona la vía de entrada del resto de declaraciones.
Te recomendamos depurar, previamente a la presentación de la declaración, el censo de sus perceptores mediante el servicio de Identificación fiscal para evitar errores de identificación.To do so, you can use the option available on the website:"Verification of a NIF of third parties for tax register purposes" located in "Help services", "Tax identification" in the section " Informative returns campaign 2021", you will also find this option in the procedures for form 030 in "Tax register, NIF and tax address" in the section "Information and procedures".
El acceso a esta opción requiere identificación con certificado electrónico (firma digital) o Cl@ve PIN emitido a nombre del declarante. Si el declarante no dispone de una forma válida de identificación, es necesario que la persona que realiza la presentación esté autorizada para presentar declaraciones en nombre de terceros, bien por estar dado de alta como colaborador social o bien, por estar apoderado para realizar este trámite.
If you log in using an electronic certificate, click "Access with certificate or electronic DNI" and, if you use Cl@ve PIN, enter the DNI or NIE in the box.
Será necesario disponer de un fichero con la declaración que se vas a trasmitir, con los datos ajustados al diseño de registro correspondiente.
When accessing the filing, Form 190 and financial year 2021 will be selected by default; you will only need to indicate the NIF of the taxpayer.
To send a file, click on "Read File" and then "Select file to validate" to select the file.From the "Recover" option you can reload the last file validated by the application for that form, financial year and NIF.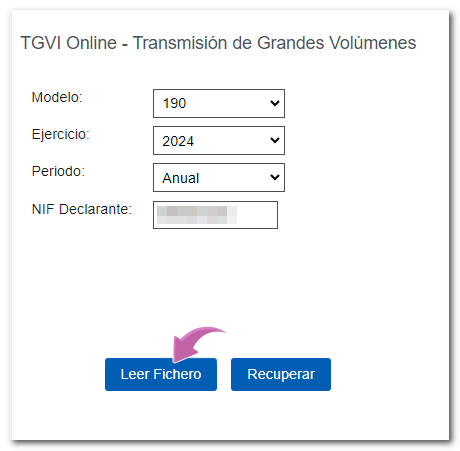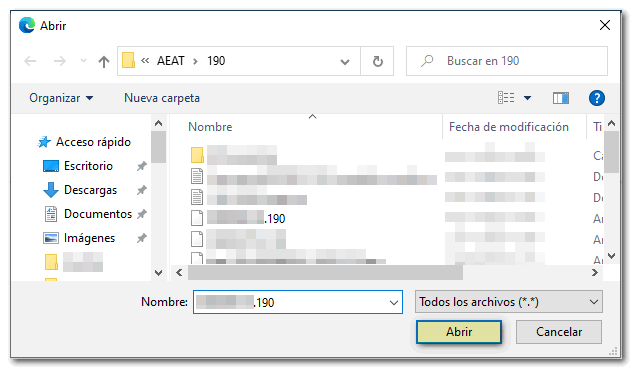 The name or business name of the taxpayer, NIF and form/year shall be reported;click on "Validate" to start the file validation.
Once the sending and validation of the file is completed, a summary of the result will be displayed;note that validation does not imply filing of the return.If the file is completely correct, you will be able to file the complete return.Click "Submit correct records", check the "OK" box and click "Sign and send".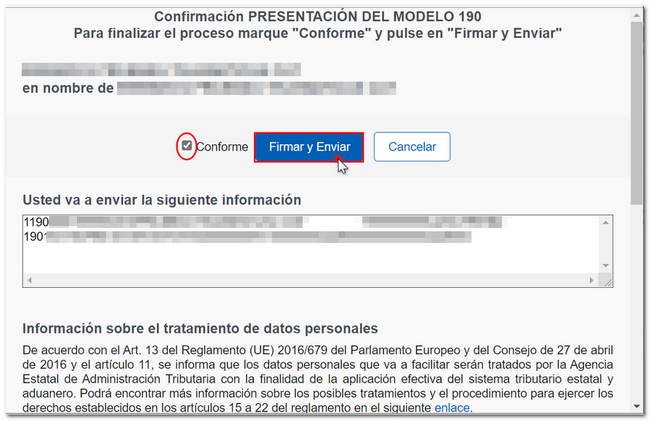 You will get the corresponding filing confirmation in a PDF, which you can save and print. En el que se muestra la información de la presentación (número de entrada de registro, Código Seguro de Verificación, número de justificante, día y hora de presentación y datos del presentador).You can download and save the PDF document by clicking "Download document".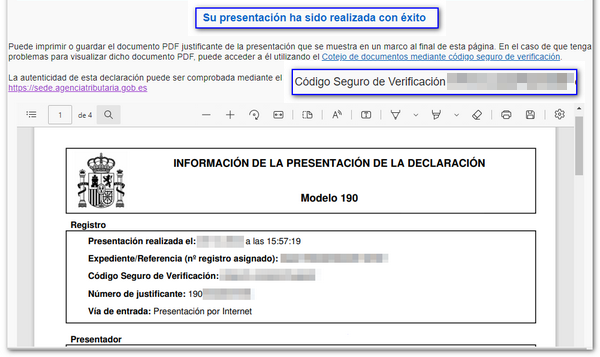 In the event that incorrect records are found, the breakdown of correct and incorrect records shall be included.
From that moment on, the presenter will have three options: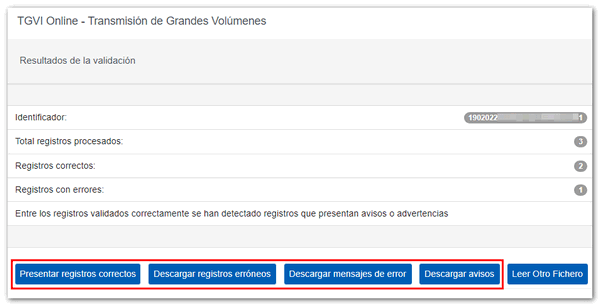 Submitting correct records
Haz clic en el botón "Presentar registros correctos", en la siguiente ventana marca la casilla "Conforme" y pulsa "Firmar y Enviar" para obtener el recibo de presentación.
You will obtain the corresponding filing receipt in a PDF, which you can save and print, showing the filing information (registration entry number, Secure Verification Code, confirmation number, day and time of filing and presenter data) and the number of records submitted correctly and incorrectly.You can download and save the PDF document by clicking "Download document".
If some records have not been submitted because they are incorrect, once the errors have been corrected, the corresponding complementary return must be submitted for the rest of the records.
Download incorrect records
A file will be downloaded with the registry design format in force with the total number of incorrect records.
Click on "Download incorrect records" and you can open or save the file on your computer.

The downloaded file shall include, in the type 1 record, an identifying number of its own as a supplementary declaration with the letter "C" and the number of the supporting document of the original validated declaration.
Download error messages
From this button you can recover a file with the detail of the errors. This will be a text file that contains details of the error for each incorrect type-2 record (Recipients).
Click "Download error messages" to open or save the file on your computer.

If the file has more than 1 million errors/records the file will be compressed in ZIP format.