Forms 291 to 347
Skip information index
Form 295
You can electronically file "Form 295.Information Return.Individualised annual list of customers with investor positions in Spanish collective investment institutions at 31 December, in cases of cross-border trading of shares or stakes in Spanish collective investment institutions" by means of a file.
Access requires identification with the electronic certificate of the taxpayer.In addition to the taxpayer, a third party acting on behalf of the taxpayer may also file the declaration, either as a social partner or as a proxy for the taxpayer.
Select the certificate and click on "Access".
For electronic filing you need a file with the return you are going to transmit, with the data adjusted to the register design corresponding to the model.
After identification, the window for loading the file appears.Read the notifications and click "Choose file" to select the file.
You will be shown an overview of the declaration.With the "View" button you can check the registry design of the uploaded file.If there are no errors, click the button "Sign and send" to begin the submission.
In a new window, check the "OK" box to confirm the filing of the tax return.Finally, click "Sign and send".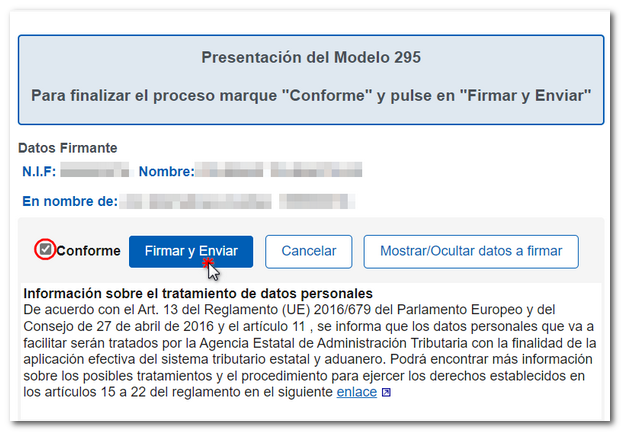 The result of a successful submission will be a response page with an embedded PDF containing a first sheet with the submission information (registration entry number, Secure Verification Code, receipt number, date and time of submission and submitter's details and, on the subsequent pages, the full copy of the declaration.