Models from 291 to 347
Skip information index
Form 295
For the electronic filing of "Form 295. Informative Tax Return. The individual annual list of customers with the investment position in Spanish Collective Investment Institutions, as of 31 December of the financial year, in the event of cross-border marketing of shares or holdings in Spanish Investment Institutions, "you have the option of filing by file.
Access requires identification with the declarant's electronic certificate. In addition to the holder of the tax return, a third party may also file it on his behalf, whether a social collaborator or an authorised representative to carry out this procedure.
Select the certificate and click on "Access."
For electronic filing, a file with the tax return you are going to send is required, with the data adjusted to the registry design corresponding to the model.
After the identification, the window will appear to load the file. Read the notifications and click on "Choose file" to select the file.
A summary of the tax return will be displayed. With the "View" button, you can check the file's record design loaded. If there are no errors, click the button "Sign and send" to begin the submission.
In a new window, check the "OK" box to confirm the filing of the tax return. Finally, click on "Sign and Send."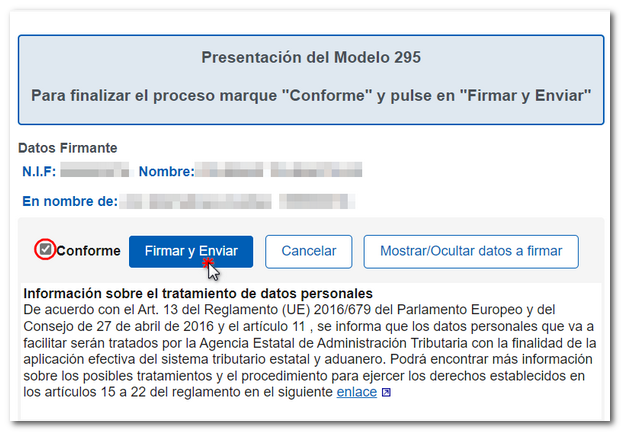 The result of a correct presentation will be a response page with an embedded PDF containing a first sheet with the information of the presentation (registration entry number, Secure Verification Code, receipt number, day and time of presentation and details of the filing party and, on subsequent pages, the full copy of the tax return.